I've been thinking about my Mom a lot lately. As many of you may know she has been suffering with advanced dementia but about a month ago, she suffered a stroke or series of strokes that affected her in many ways. I spent several days visiting her last week. She had a few good moments but honestly, after the first day, it went downhill pretty quickly. By the last day of my visit, she would not open her eyes or acknowledge me (or the dog) in any way. It was so difficult to see her in this state. If she were aware of her present condition I know she would be devastated. So instead, I choose to think of her throughout the day, sending up prayers for her, and remembering the happier times when she was in good health.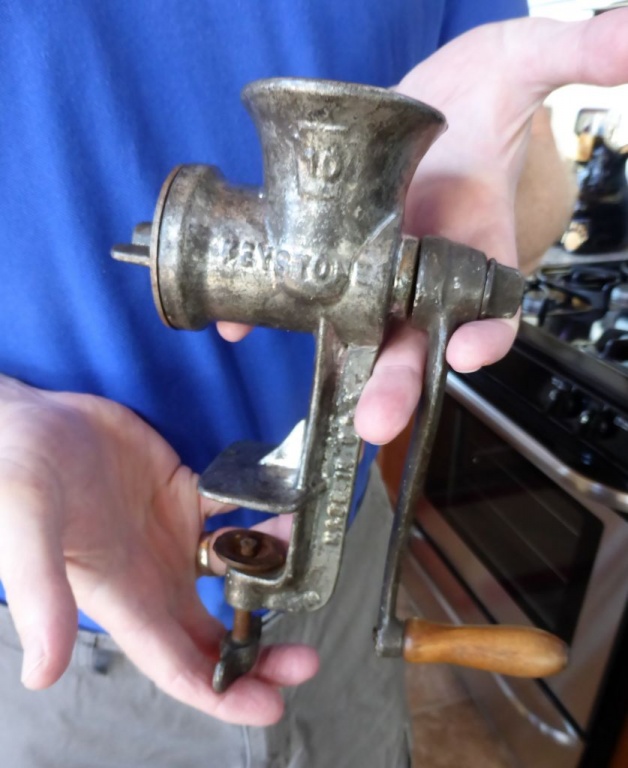 Last week, I stumbled across my Mom's old meat grinder in a box of her things. Oh golly, what a flood of fond memories came rushing back! Mom inherited this meat grinder from her mother, and goodness knows how old it is! What I vividly remember are the countless times growing up, using this grinder to make my Mom's "Poor Man's Ham Salad." My Mom and Dad grew up in the Great Depression and real ham was in short supply to their families because of the cost. In my Mom's family, my grandmother would use bologna in the place of ham because it was cheaper and more readily available.
During the summers when I was growing up, Mom and I would spend weekday mornings at our local community pool. I remember it all like it was yesterday. We'd come home from the pool and I'd go down into our cool, damp, cement basement and use that meat grinder to grind up a pound of bologna for Poor Man's Ham Salad. We'd walk out to our garden and pick plump, juicy, ripe tomatoes off the vines still warm from the sun and we'd slice them onto white bread with the crusts cut off. Then Mom would slather on the Poor Man's Ham Salad. We'd sit out back on our patio eating lunch in the sunshine. At the time, those summers seemed to stretch on forever and yet so many years have now passed. But I remember them all; as I remember my Mom and those mornings spent at the pool and those lunches…….
I brought that meat grinder with me to the cabin this weekend and this morning, Kent and I made Poor Man's Ham Salad. It kept Mom fresh in my mind and we chatted about those summers long ago. Kent listened patiently as I talked about those simpler times and happy memories. He suggested I share the easy-to-make recipe and I think it is a terrific idea! Now granted, this isn't the healthiest recipe; but in moderation, or for a special treat, it sure is yummy. And it only takes three ingredients which you probably already have in your refrigerator.
Simply grind one pound of bologna (or you can do this in smaller batches, such as a 1/2 pound.)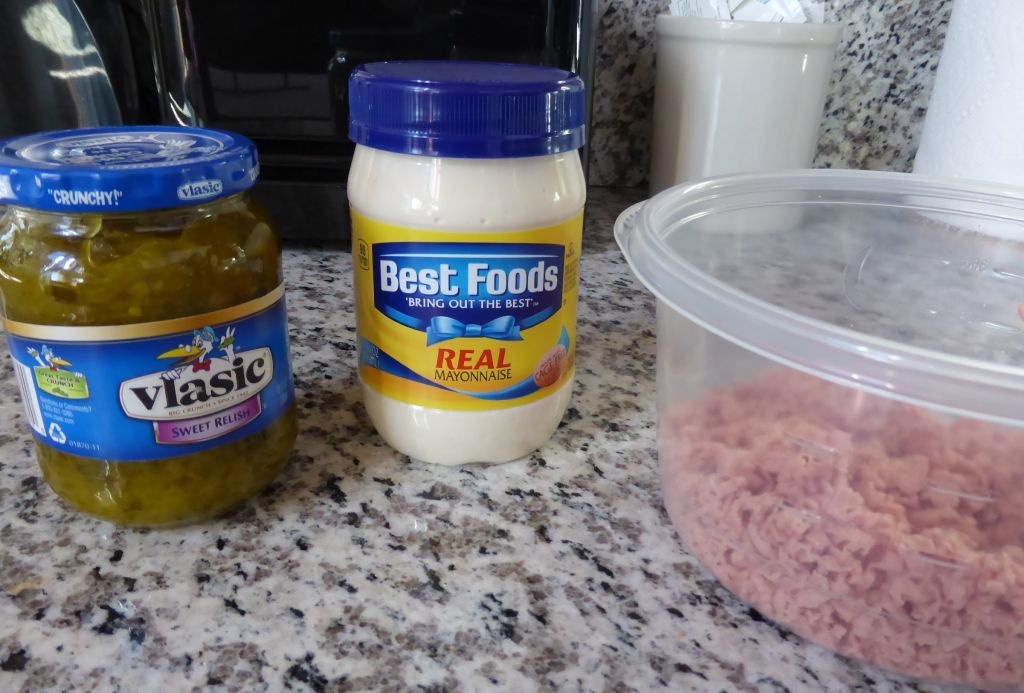 All it takes are three simple ingredients: bologna, sweet relish and mayonnaise.
Add a dollop of sweet relish, to taste.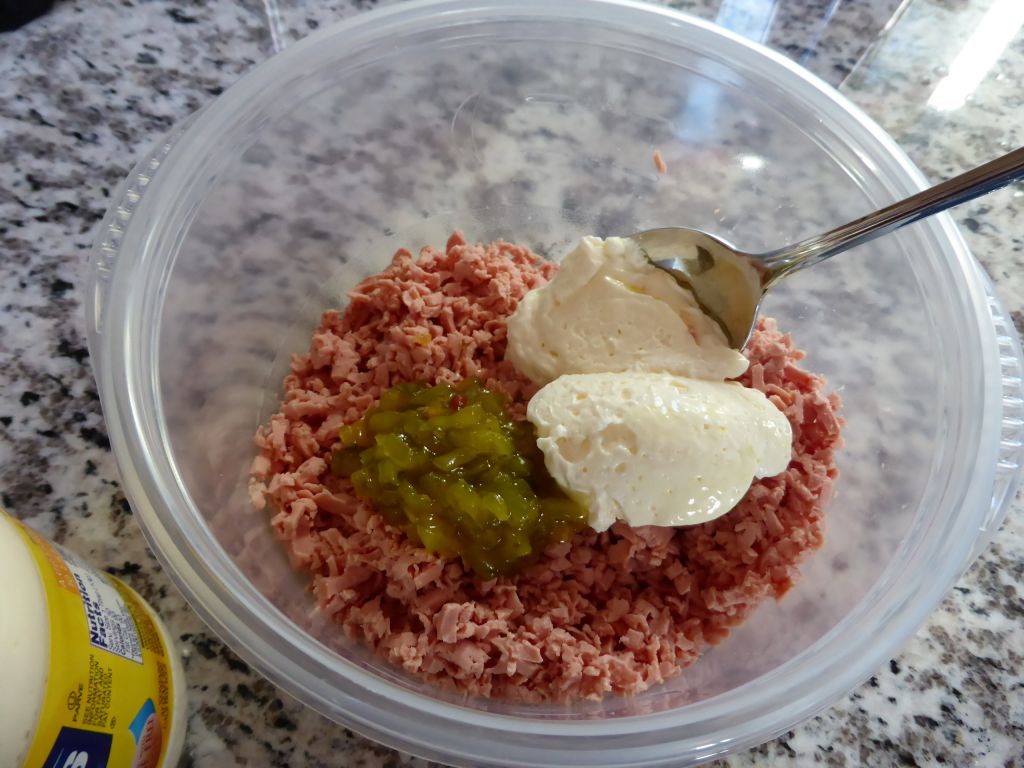 Add a dollop of mayonnaise, to taste. Approximately 1/4 cup.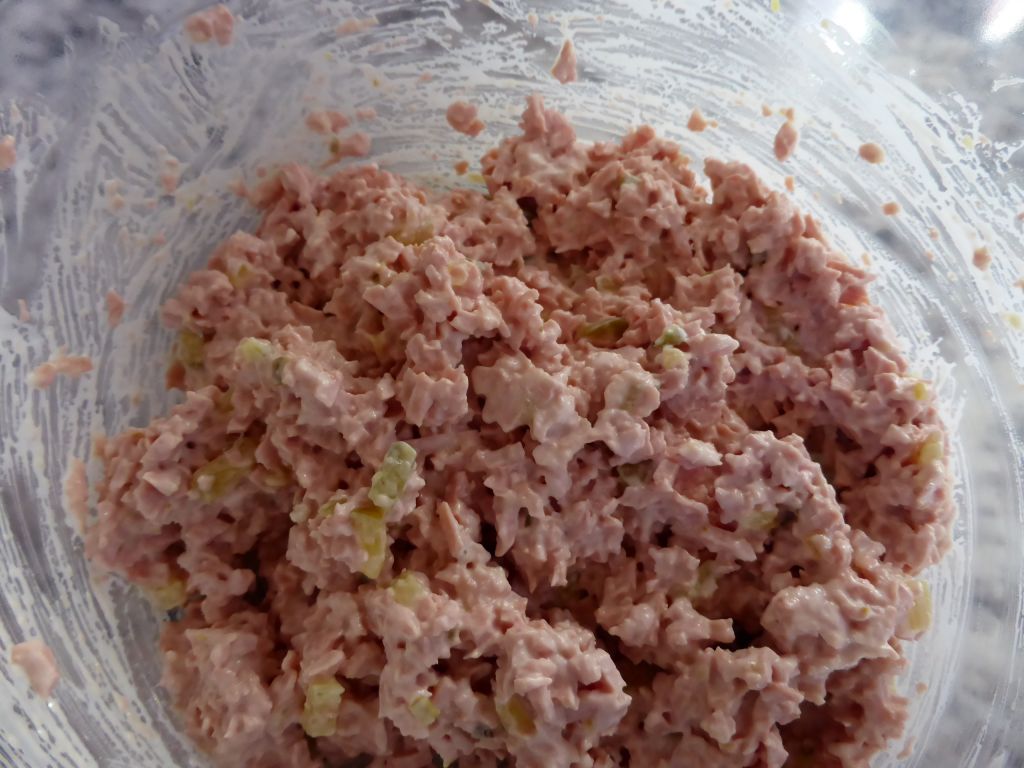 Combine the ingredients and enjoy!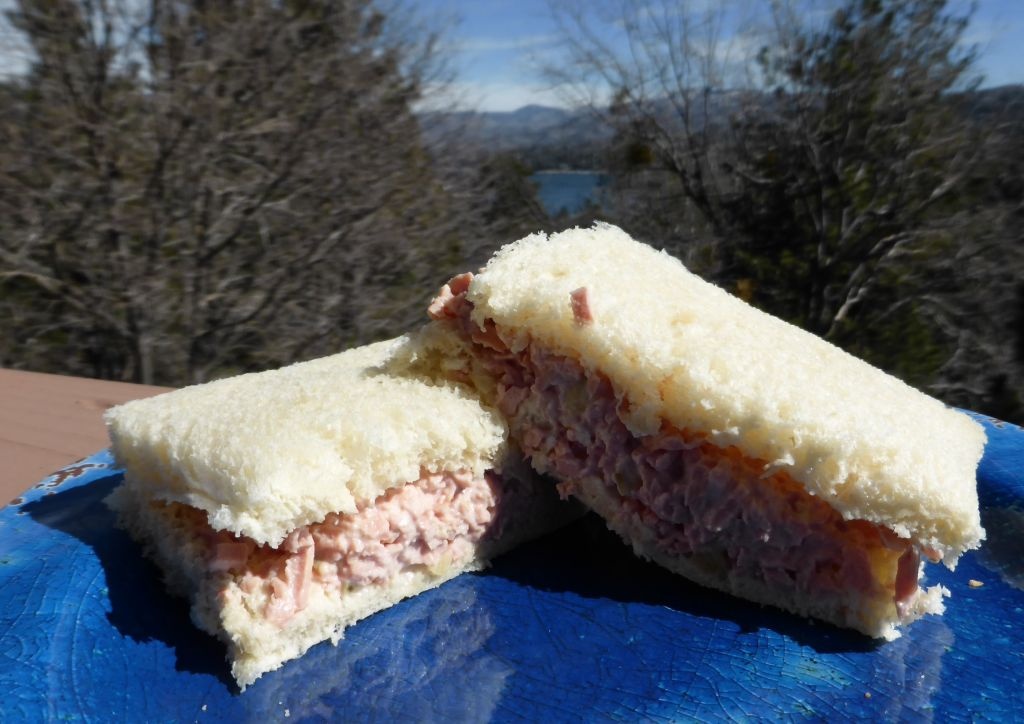 Serve on any slices of your favorite bread. It tastes especially delicious with slices of tomato, but up here at the cabin, fresh tomatoes (in February) are scarce. My favorite way to eat it? On white bread with the crusts cut off, of course!
Here's to you, Mom. Love you lots!