So, how's your week going so far?
I can tell you that I've been fighting this nasty cold/sinus infection/virus thing for 8 long days now. Kent is sick, too (much worse than I am.) We finally cried "uncle" and went to the doctor yesterday afternoon for some antibiotics. Hopefully, the medication will knock this thing out, because being sick just isn't on my schedule right now. I've got far too much to do! The deadline for my completed manuscript (for book #2 – yahoo!) is due at the publisher in just two weeks. Yikes!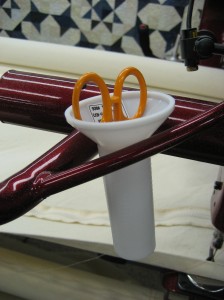 Just a couple of things to share with you today. Do you remember the photo of that neat scissor holder on the handle of the longarm quilting machine in the last post about my dear friend, Carolyn? She dropped me an email to say that the holder is actually just an empty spool of King Tut thread turned upside down. And she'd like everyone to know that she can't take credit for the great idea. She saw it on Anita Shackelford's Gammill when she was visiting Anita at her home sometime last year. Thanks, Anita and Carolyn. I think it is a fabulous idea!
Thought you all would like to see the "Quality Control Managers" who monitor my every action as I sit at my desk and write these past few days. Self-appointed, they are always right here next to me, doing their part to ensure my second book is going to be a best seller. Their contract has a clause (or is that 'claws'?) with bonuses of double portions of tuna and fresh catnip based on sales, you know.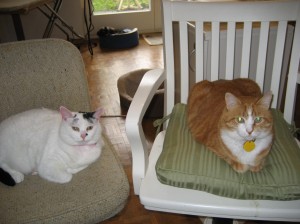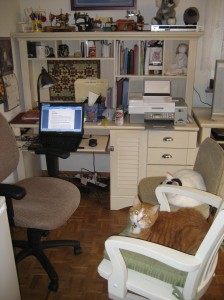 And I have something else to share with you all. When Josh brought this photo home from school yesterday, it took my breath away. When did my little guy grow into such a fine young man? This photo was taken at his high school Jr. ROTC military ball, which was held while I was teaching in Ohio last month. And another thing. I hate to admit this, but Josh is already more than 2″ taller than me. What are we feeding this kid? (Sorry for the poor picture quality. My scanner apparently didn't like the type of photo paper the picture was printed on because it picked up all the lines.)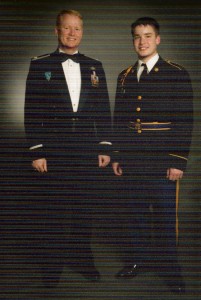 I must admit, that handsome fellow on the left is absolutely every bit as handsome as the day I married him. And he's wearing the same mess dress uniform he wore on our wedding day. How'd I ever get so blessed?
One of the greatest things I overheard Josh say recently was when we were all joking and laughing about some silly something, he said quite spontaneously, "Oh my gosh, I love my family." 
Music to my ears.