Exactly twenty-one years ago today….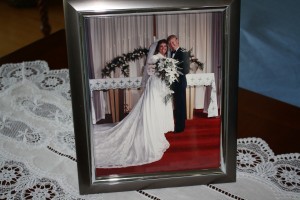 I became a "Mrs."
On that day, I married my best friend. Guess what? He still is. Only moreso. Looking back, it sure has been an amazing twenty-one years. Thanks, honey. I'm truly looking forward to the next twenty-one — and hopefully, many more!
Yep, that handsome guy looks every bit as handsome in the same uniform today as he did twenty-one years ago. It's a good thing my wedding gown is "sealed" in special packing for future generations so I'm not on the spot to try it on now….. (smile).
PS — I'd like to send a very Happy Anniversary wish to my dear friend Carolyn and her husband, Bruce Archer. (I just knew I had a special bond with Carolyn when I met her years ago.) Today is their wedding anniversary, too, only I believe it is their 23rd!
PPS — For all your regular readers, I'm sure you're familiar with my friend, Pat. (She leaves some of  the best, most encouraging comments, for which I'm so grateful!) Anyway, check out this link. It's really neat — a real "small world" sort of thing. She's the "mystery woman." Too cool.