Welcome! Although we moved this past June, it has taken me this long to organize my photos to share the transformation of my sewing studio. With all the homes we've live in the past 24 years (14 total) this was the first time I was able to completely renovate my sewing space and customize it to make it my dream studio.
The first time we walked into this house when it was for sale I knew this room would be perfect for my sewing studio. Look at those amazing windows! It is exactly the kind of natural lighting I had been hoping to find.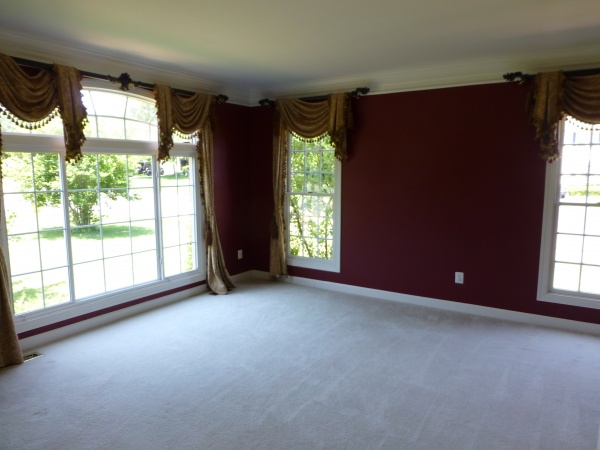 My first priority was to change the deep red walls and remove the heavy draperies. They look fine for a living room, but for a sewing studio? Not so much. It took a primer plus three coats of paint to get rid of that dark red. The color kept bleeding through! I hired an electrician to add electrical outlets in the floor and on the walls with  enough power to handle a professional grade steam iron, sewing machines, full-spectrum lighting and other appliances and tools, such as my computer, printer, television, etc.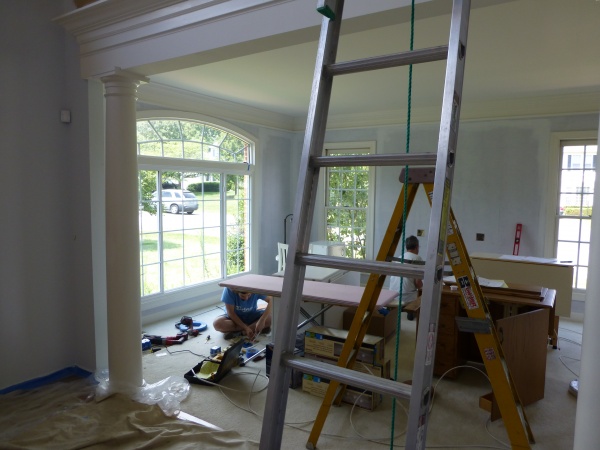 You can see the outlets and switches on the wall between the windows which were installed by the electrician in anticipation of a built-in desk. The next thing to go was the carpet, which was replaced by a hardwood floor.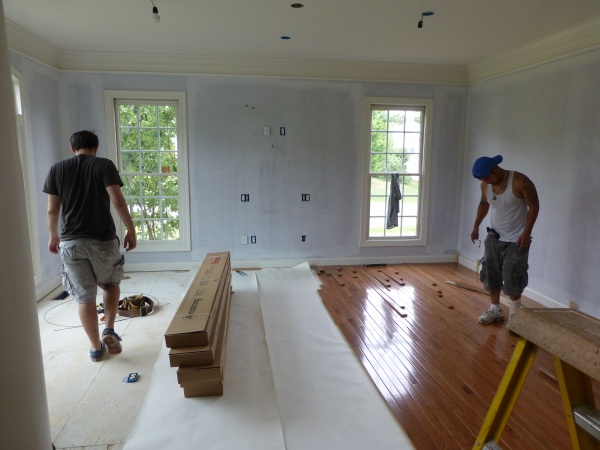 I chose my favorite color – periwinkle – for the walls. I love the way it looks! Working with a design consultant at Lowe's, I ordered custom wood cabinetry. It took about six weeks to have them made to my specifications, but it was worth the wait.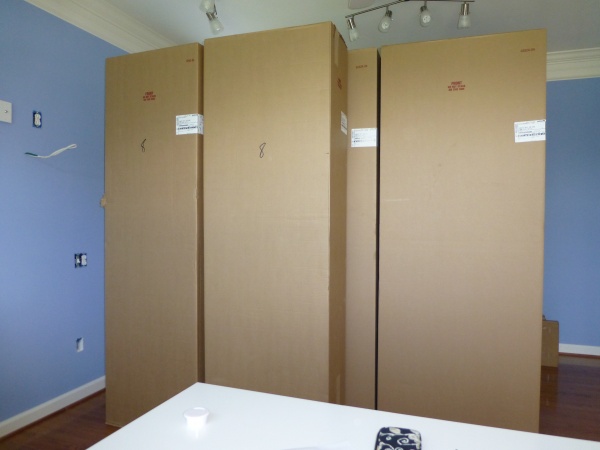 It took the cabinet installation guys three days to build and install the cabinets and cutting island. The electrician returned and finished installing the lighting in the cabinets and on the ceiling, including a ceiling fan. The cutting island is on heavy casters and can be moved easily. The cabinets on the wall hold tons of storage including roll-out shelves, lots of drawer space and even a space to store my oversized ironing board upright. And the natural light that streams through the windows is heavenly! I am simply in love with my new studio, and have to thank my very sweet husband for making it all possible.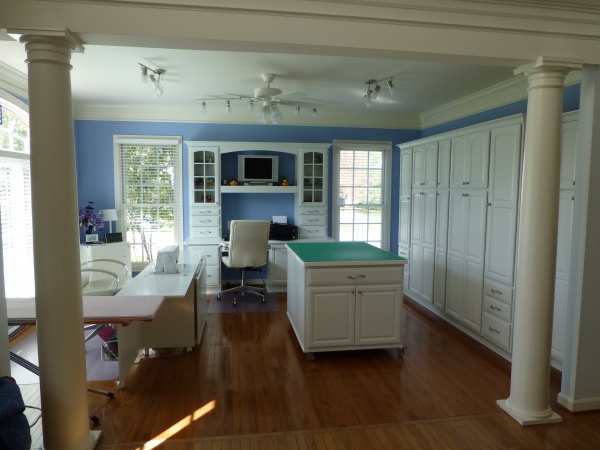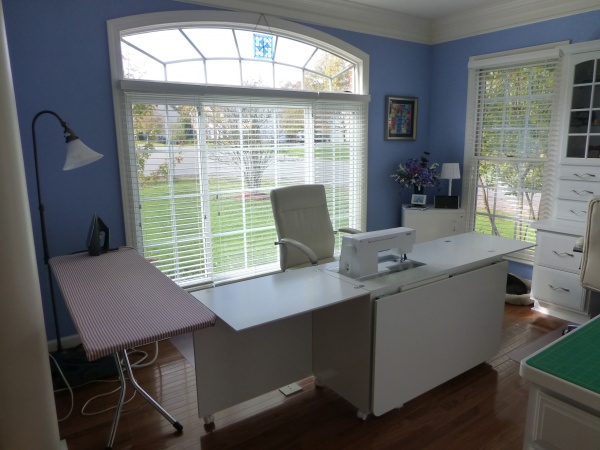 This view is from standing in my studio looking back out into the foyer.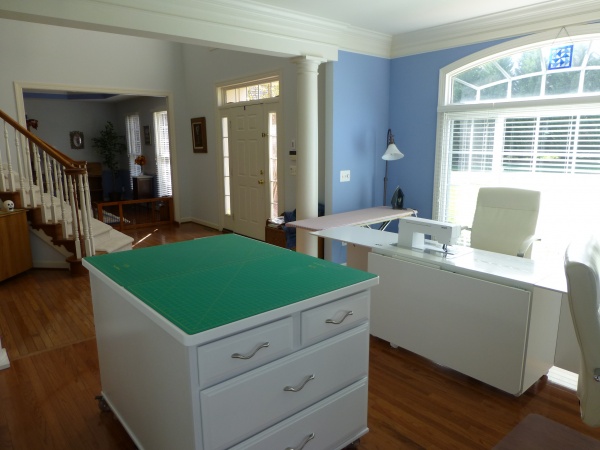 Before
After
Welcome to my happy space!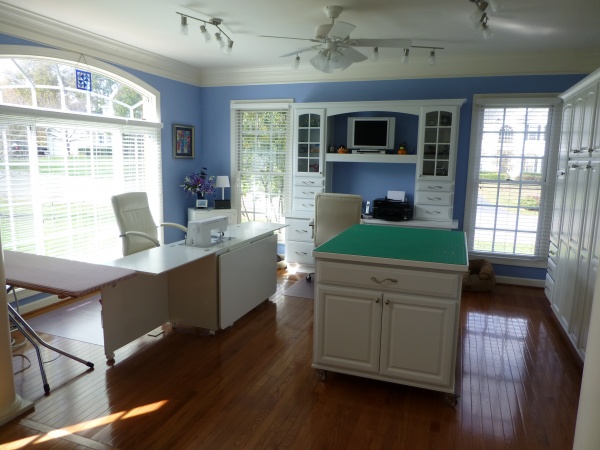 But my sewing studio wouldn't be complete without my favorite furry friends. And I'd like to introduce our newest addition to the Einmo household, Toby. He's four months old!
Divot and Toby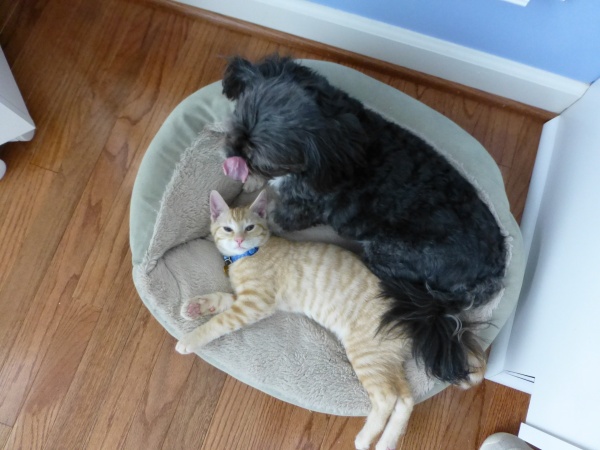 Tuffy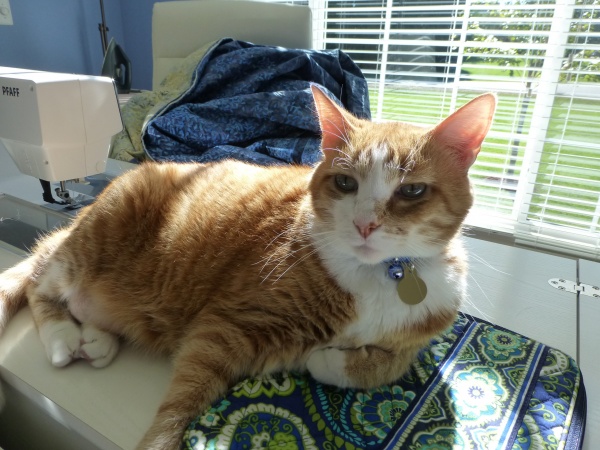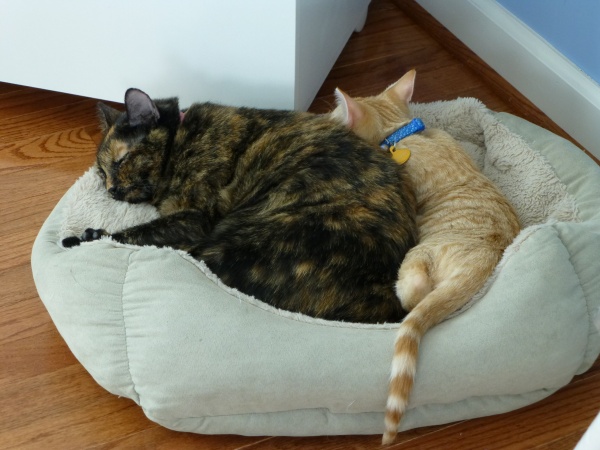 Miss Snickers and Toby
Update Monday Nov 5th:
THANK YOU ALL FROM THE BOTTOM OF MY HEART — for all your kind words and comments! I am overwhelmed at the outpouring of support and love! Please know that I have read each and every comment and am thinking of you! I'll be back later this week to post more details of my studio; hopefully you'll drop by for another visit!