Move him, I mean.
I stepped away from my sewing machine for less than five minutes and look what I found when I returned.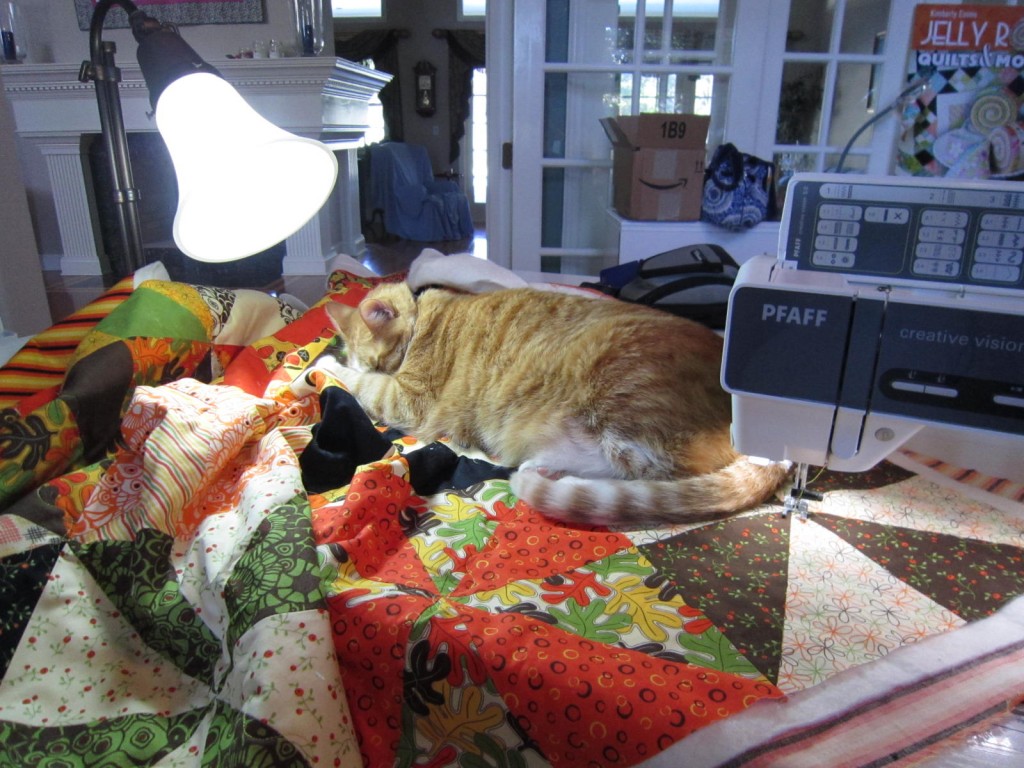 Nope. No way. I can't bring myself to do it.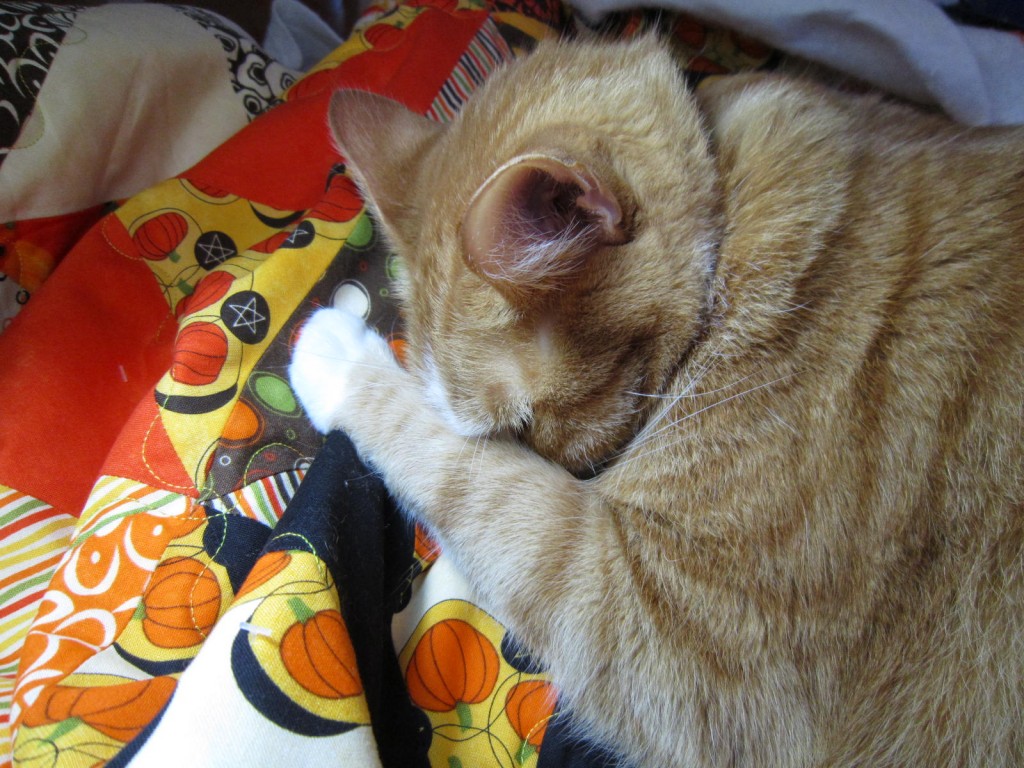 Just can't move this guy. After all, he is the WORLD'S GREATEST CAT.
Oh well (sigh). Might as well find something else to do share….. 😉  I'm working (or, was working) on this UFO from waaaaaayyyyy back in 2007. E-gads, has this cute-little-top-made-from-the-first-Layer-Cake-I-ever-used really been stashed in my UFO cupboard that long?
And yes, I really do have a UFO cupboard. Moving right along…..ahem….
I came across this pinwheel top and thought, "What the heck, I might as well get this thing finished!" Fortunately for me, Mr. Tuffy eventually discovered that the needs of his tummy outweighed his need to nap. And I finished it!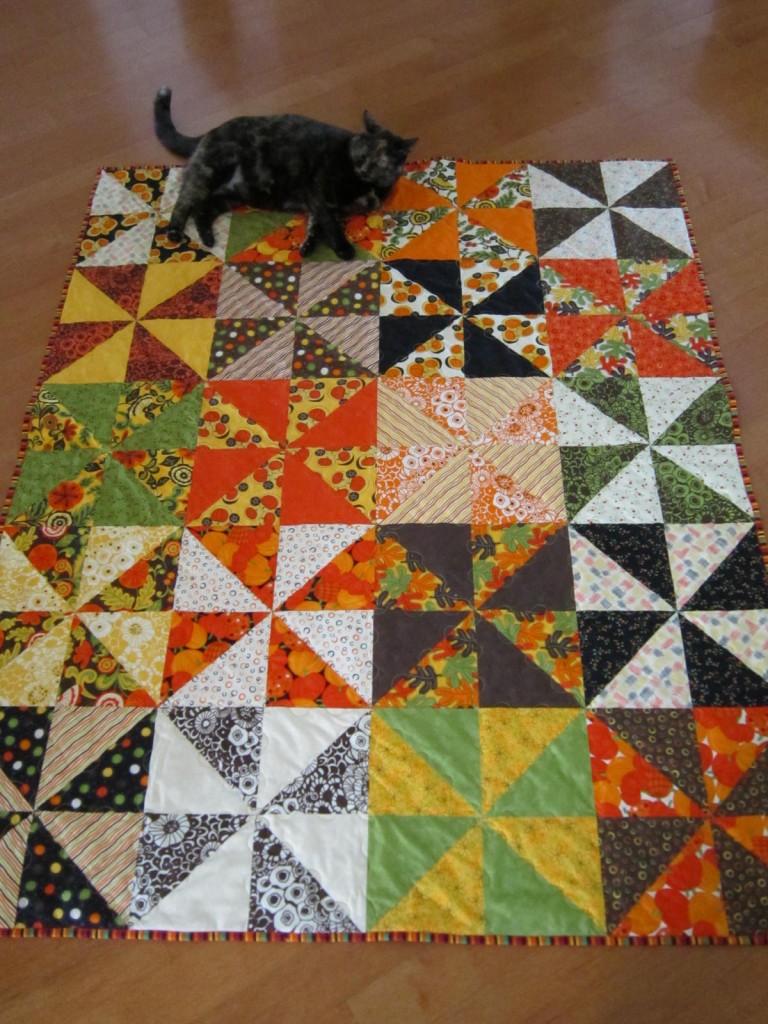 Modeled by our very own Halloween kitty, Miss Snickers.
(Otherwise nick-named "Boo Kitty.")
On an entirely different topic, for those of you with inquiring minds like Katie (read the comments section here), I used some batik fabric yardage from my stash I probably would never use in a quilt top to piece the back of my Caribbean Cruise Souvenir quilt. But the really cool thing about the back is the signature block. While on the cruise, I bought a fat quarter of light batik fabric and asked the quilters in the group to sign it using brightly colored Sharpie pens. What a great way to have a record (along with a few personal messages) of all the fabulous friends I made on that trip. L-O-V-E  I-T!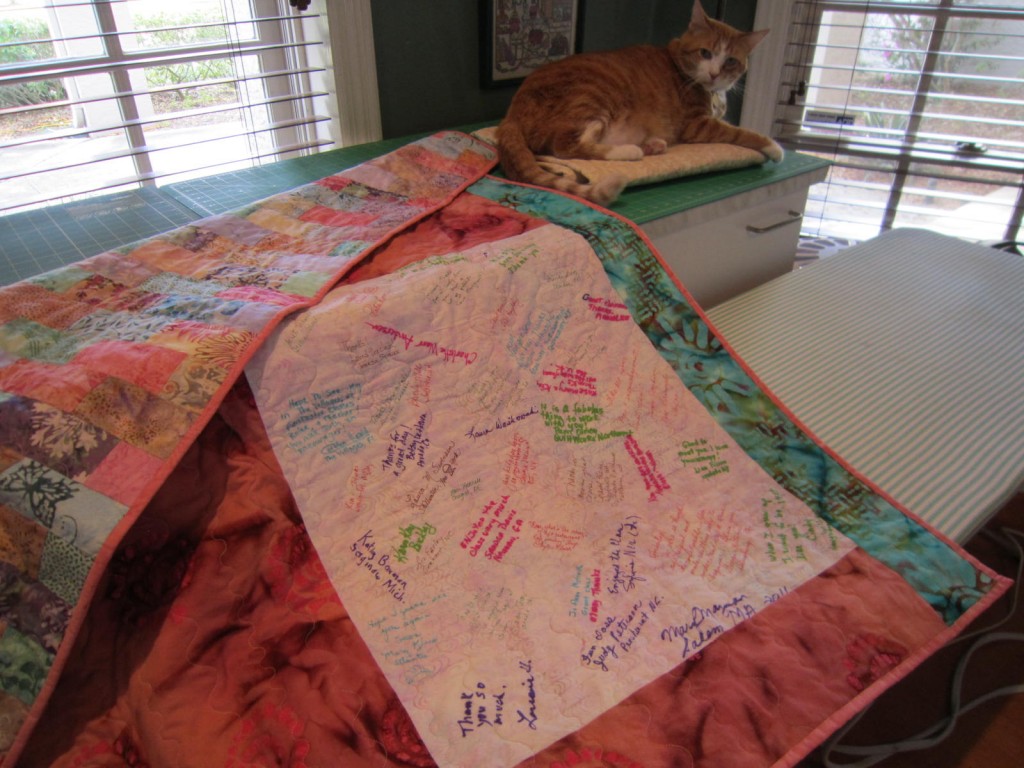 And there he is again. Himself. On another one of my quilts. In the middle of the action.  He thinks it's his job in life to add fiber content to my quilts. 80% cotton, 20% cat fur.
Yep, this cat knows where it's at.