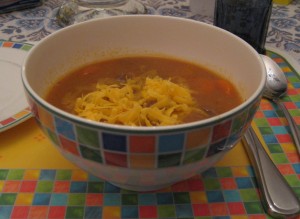 I recently perfected a hearty, absolutely yummy, warm-you-down-to-your-tootsies new soup recipe that is so good I just have to share it with you all. If you like soup, you'll love this easy new recipe. Preparation takes about 20-25 minutes (less if your browned ground beef is ready in the freezer. I like to keep it frozen in large batches ahead of time.) The best part is this soup needs to simmer all day long in a slow cooker to taste its best — which means a whole day of stitching, cutting, or quilting to your heart's content without having to stop and fix dinner. Even finicky eaters will love this soup!
Kimberly's Cheeseburger Soup
1 pound ground beef
1 medium onion chopped
2 tsps. minced garlic
1 large coarsely chopped potato
1 cup sliced frozen carrots
1/2 cup ketchup
1/4 cup yellow mustard
2 tsps. chili powder
1/2 tsp. salt
1/2 tsp. ground black pepper
2 – 14 ounce cans beef broth
2 – 10.75 ounce cans condensed cheddar cheese soup
1 cup shredded cheddar cheese (set aside to garnish bowls of soup after cooking)
In skillet, brown ground beef, onion, and garlic. Drain off fat. Combine browned beef mixture and all non-liquid ingredients in slow cooker. Toss lightly. Add broth and soup; stir to combine well. Cover and cook on low-heat setting for 10-11 hours, or on high-heat setting for 5-6 hours. Top each bowl with a sprinkling of shredded cheddar cheese.
Serve with crusty French bread. Makes six servings.
I hope you'll give this recipe a try. Its just perfect on a cold winter's day to warm you up all over. I'm just sure this delicious soup will become your favorite new recipe. I know it is mine!
Soup's on!