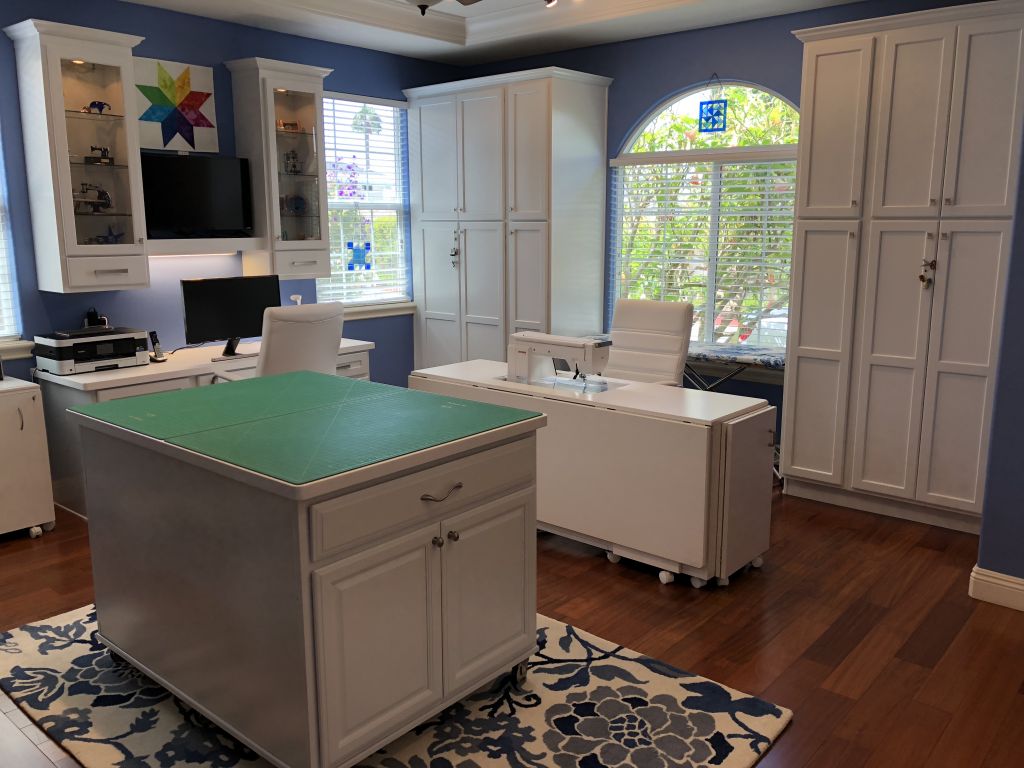 Some changes have been happening in my sewing room lately and it's finally time for me to share what we've been up to! You might remember when we moved into our home almost two years ago and I took over the living room of the house and turned it into my new studio. I blogged about it HERE (Part 1), HERE (Part 2), and HERE.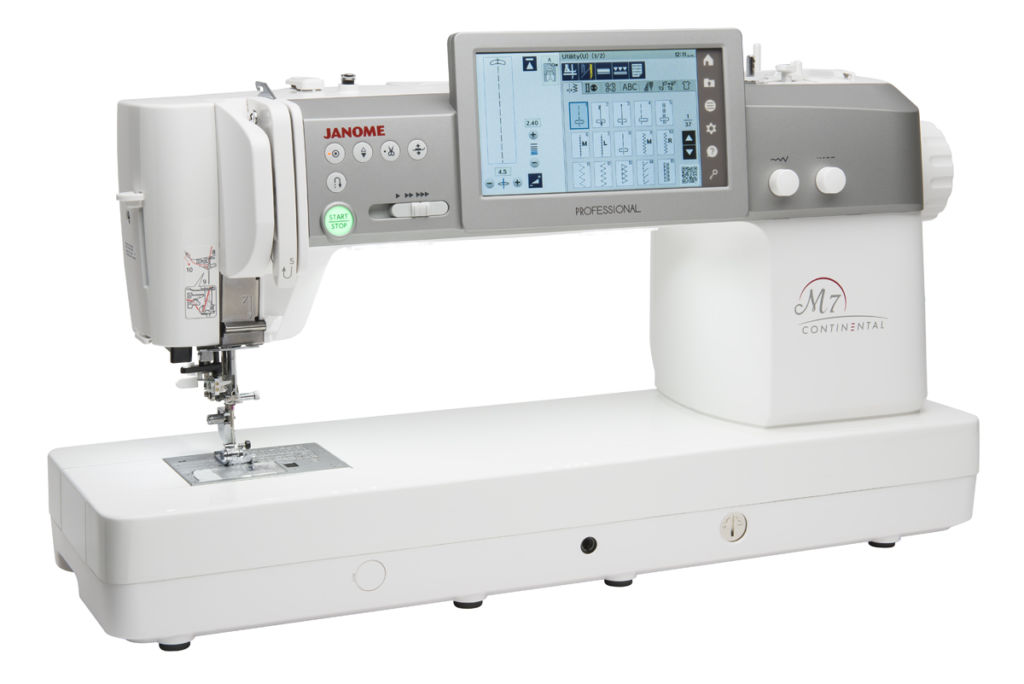 Late last fall, the impressive, fabulous new Janome Continental M7 came to live in my studio and I have loved using it and really putting her through her paces. This machine is positively amazing and I am currently writing a candid, thoughtful, and thorough review of this machine; so stay tuned! While I love the incredibly large extension table (with the coolest storage drawer!) that comes as a standard accessory with this machine, I just couldn't get past my desire to have it sitting lower in a sewing cabinet with a flat bed insert. I was fortunate to grow up sewing with my machines lowered in sewing cabinets and it's how my body is most comfortable sewing. So, I began a search for a new cabinet with an expanded opening that could handle the large base of this awesome machine. 
As you may know, my studio is small but very functional. I tell quilters and sewists all the time: "You don't have to have a large space for your sewing room. Use what you have and make it work for you. Make it your own." My own studio is barely 300 square feet with almost no wall space. But I was more than willing to sacrifice wall space for the three windows which provide great natural light. However, there wasn't much room to maneuver and the sewing cabinet that previously held my Janome 15000 (or 9450) was going to have to move out in order to accommodate a new sewing cabinet for my M7.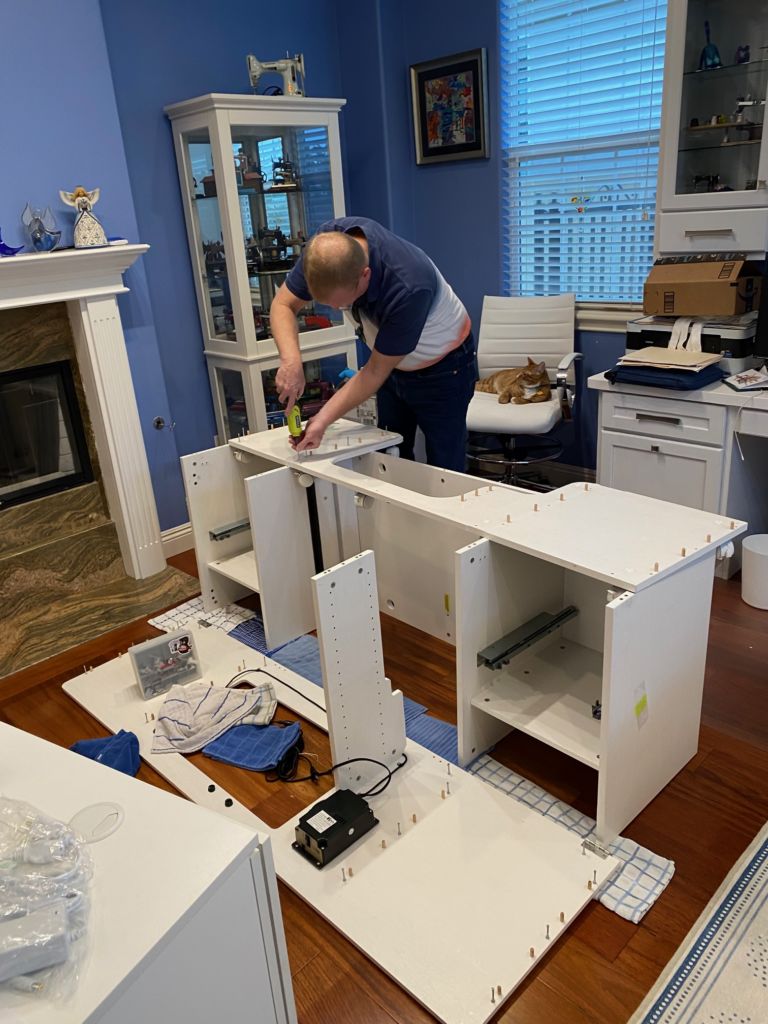 Mr. Kim went to work taking apart the old cabinet in preparation for transportation to a different space. As you can see, Cheeto, ever the Quality Control Manager, kept a close eye on him to make sure he did a thorough job. Admittedly, this was a very long and tedious process.
After an extensive internet search and looking at many wonderful options, we decided to purchase an Arrow Sewing Cabinet with electric lift and Mod 5 drawer caddy to give me plenty of space to hold a large quilt on a flat surface. In preparation for this new, modular cabinet set, Mr. Kim (the good guy that he is) spent several evenings working to take apart my old cabinet so we could transport all the parts and pieces to my studio at our cabin. 
The new Arrow cabinets were delivered already assembled and I quickly went to work getting my M7 all settled into her new home. It was only then my mind really started working overtime. What if I could have my Janome 15000 with the embroidery unit set up all the time next to my M7? What if there was a way to rearrange my studio to make it even more easily accessible and fit both cabinets?
My sweet husband was a little bewildered at the thought of possibly having to reassemble the cabinet he had just worked so diligently to disassemble. But with a bribe of making homemade Rice Krispie treats, he was more than willing to try moving things around to see if we could fit BOTH cabinets plus my cutting island into this tight space. We tried several different arrangements. Finally, we came up with an arrangement of the cabinets plus the cutting island that actually works. And then he got busy putting the original cabinet back together again. This process took several more evenings after work and dinner to accomplish. 
The new, big reveal!
And guess what? Even though we've added more furniture to this rather small space, the new arrangement actually works better and everything is even more accessible than before. I love it!
Are you ready to see how it looks now?
My old and new cabinets sit back-to-back in the center of the room and the cutting island has been moved to the space in front of the window between the built-in wall cabinets. 
I will put my Janome Memory Craft 15000 with the embroidery unit on top of the old sewing cabinet so I can have machine embroidery stitching while I sew on the M7. A quilter's dream come true and a great way to multi-task and make the best use of my creative time!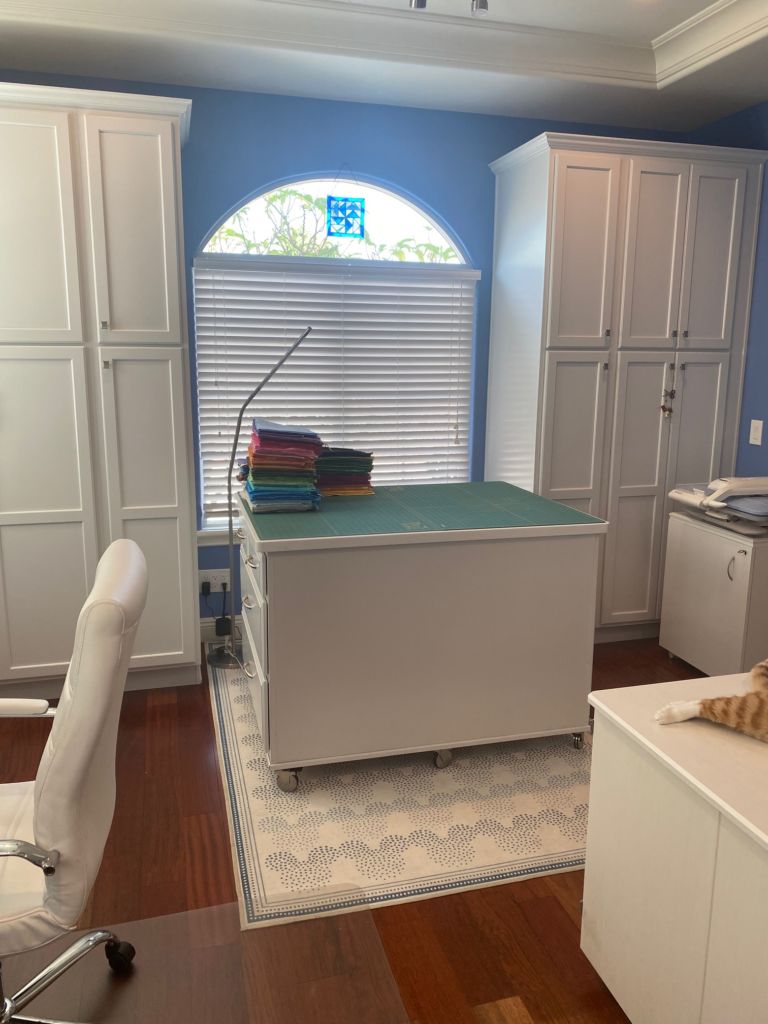 If needed, the cutting island can actually be moved further into the "bump out area" where the large window is located. Although when the island is in this position, the doors and drawers are not  accessible. Good thing the island is on rolling castors!
Notice the new rug? Thanks to a certain feline who sometimes vented his discontent by having "accidents" plus a puppy who wasn't quite yet potty trained, we had to throw out the previous beautiful rug. This time, I purchased a Ruggable rug for the studio and I love it! These Ruggable rugs are designed for pet owners or folks who experience frequent spills or stains on their rugs. Did you notice the design? That's right; Mickey ears! Because we are a Disney family (both the Mr. and I used to work at Disneyworld many, many years ago and our youngest son works at Disneyland during school breaks.) It looks fantastic!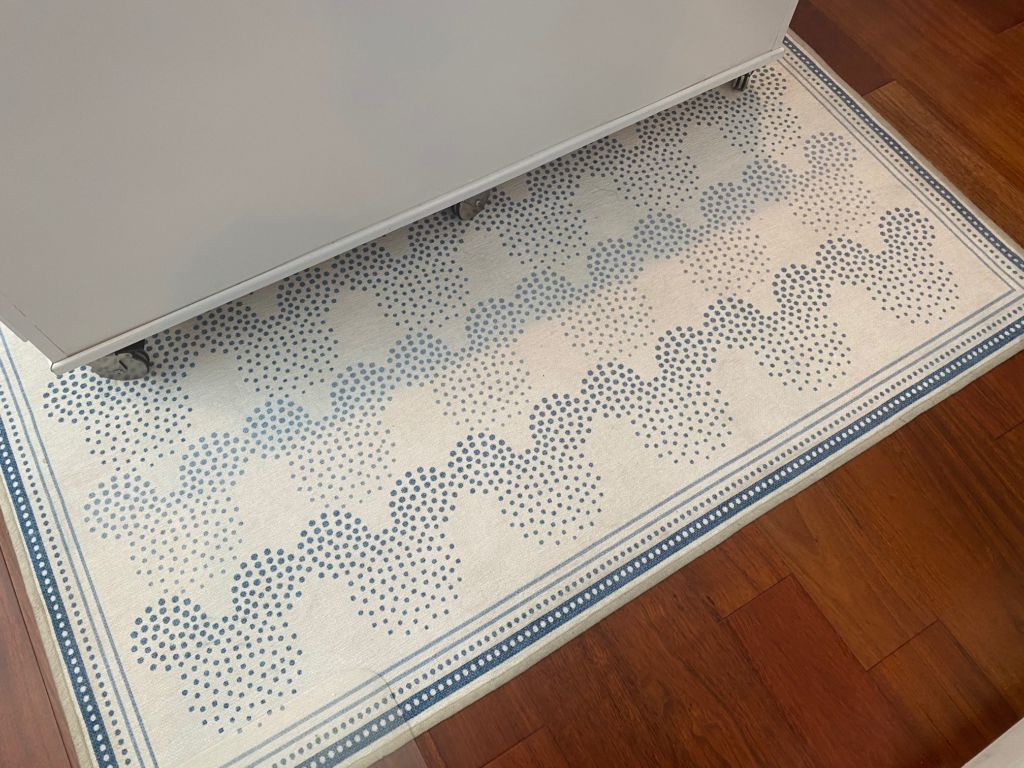 And we were careful to ensure the rolling chairs have floor protectors in place so as not to damage the hard wood floors.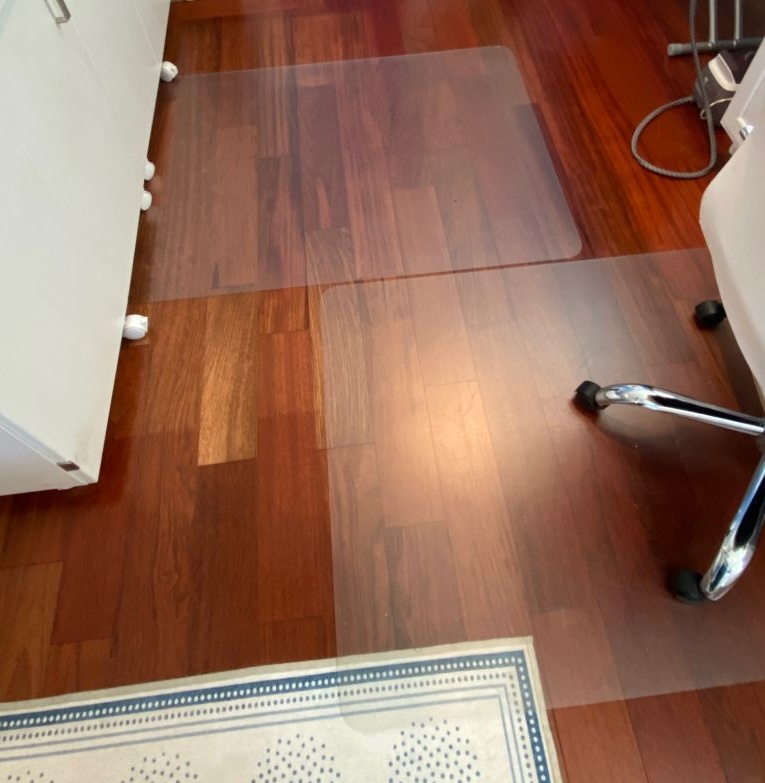 My big board ironing board has been re-positioned under a side window and next to the desk which allows me easy access. And my Elna 850 press lives on another small cabinet (also on wheels) so I can move it around as needed.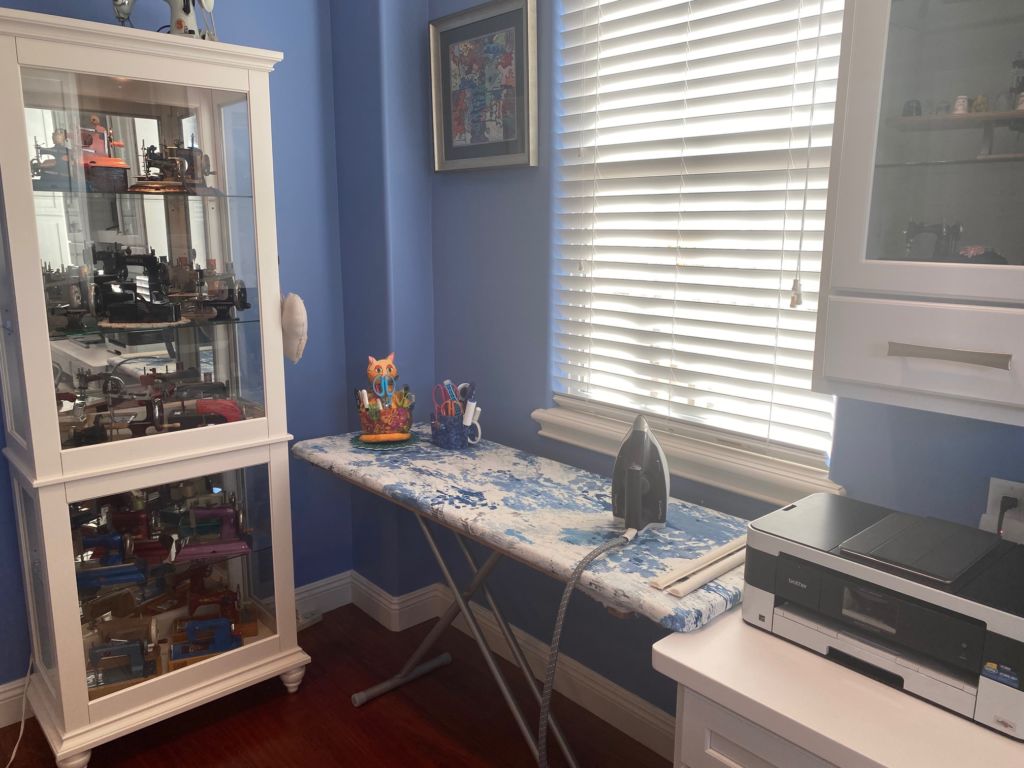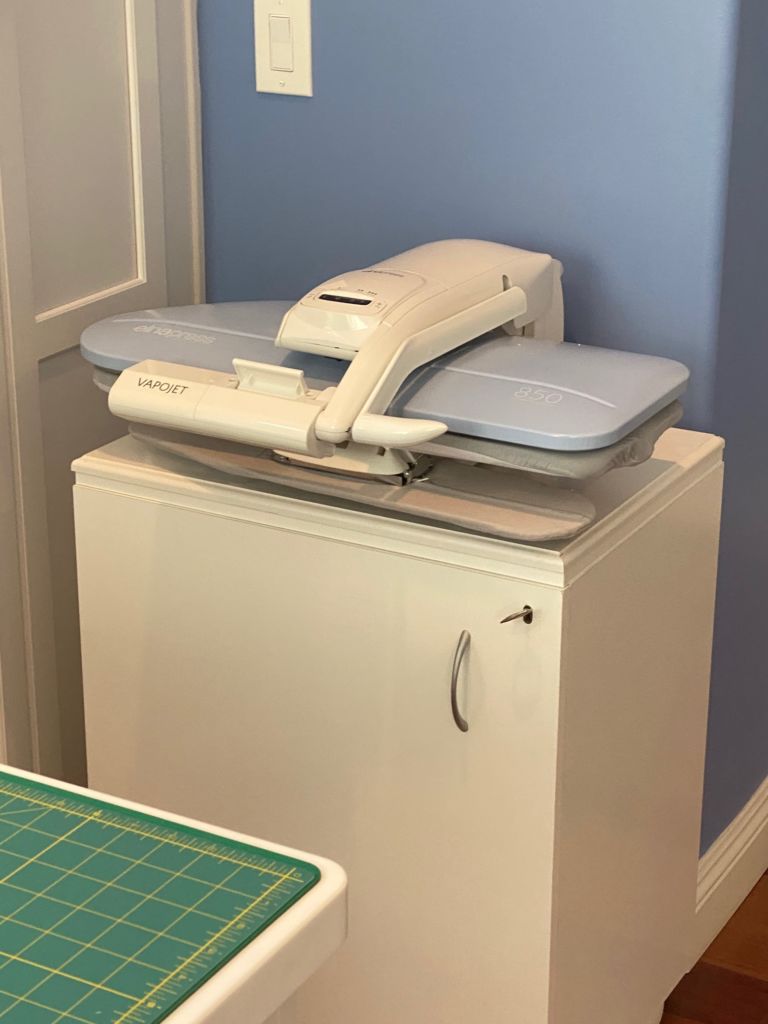 This new arrangement suits my needs so well and I'm thrilled with how my studio mini-makeover has turned out. It took some time, thought, and careful planning but in the end it was so worth it. And I couldn't be happier with my new Arrow modular cabinets. They are sturdy and made with high-qualilty materials. I can tell they will last for years and years to come!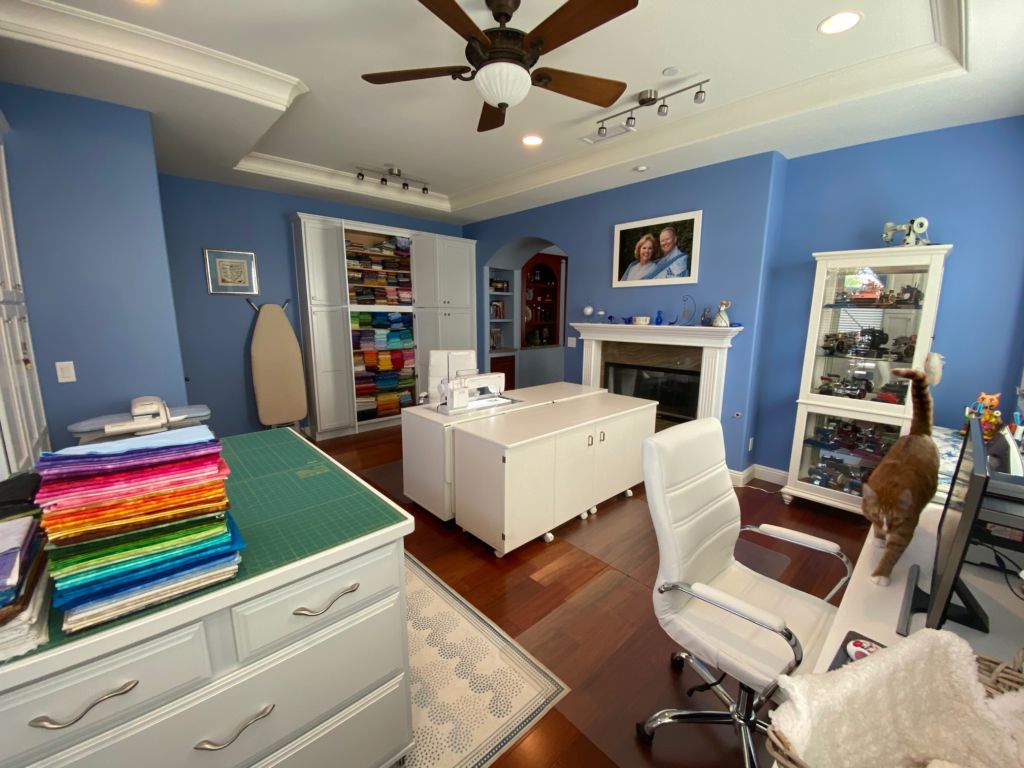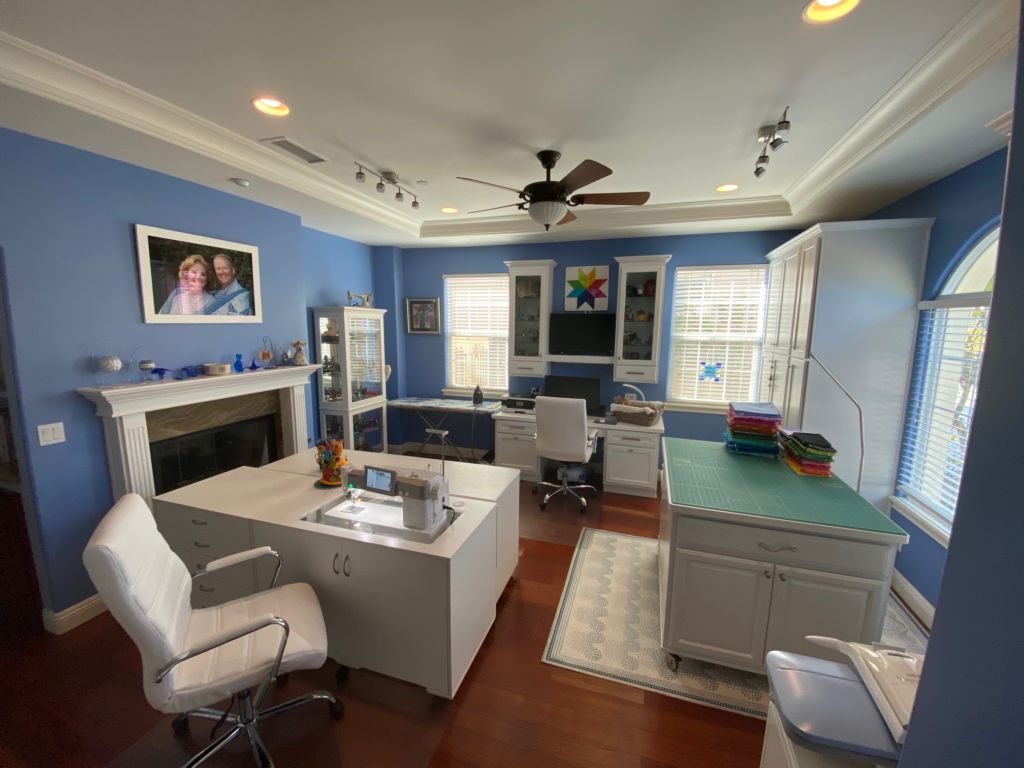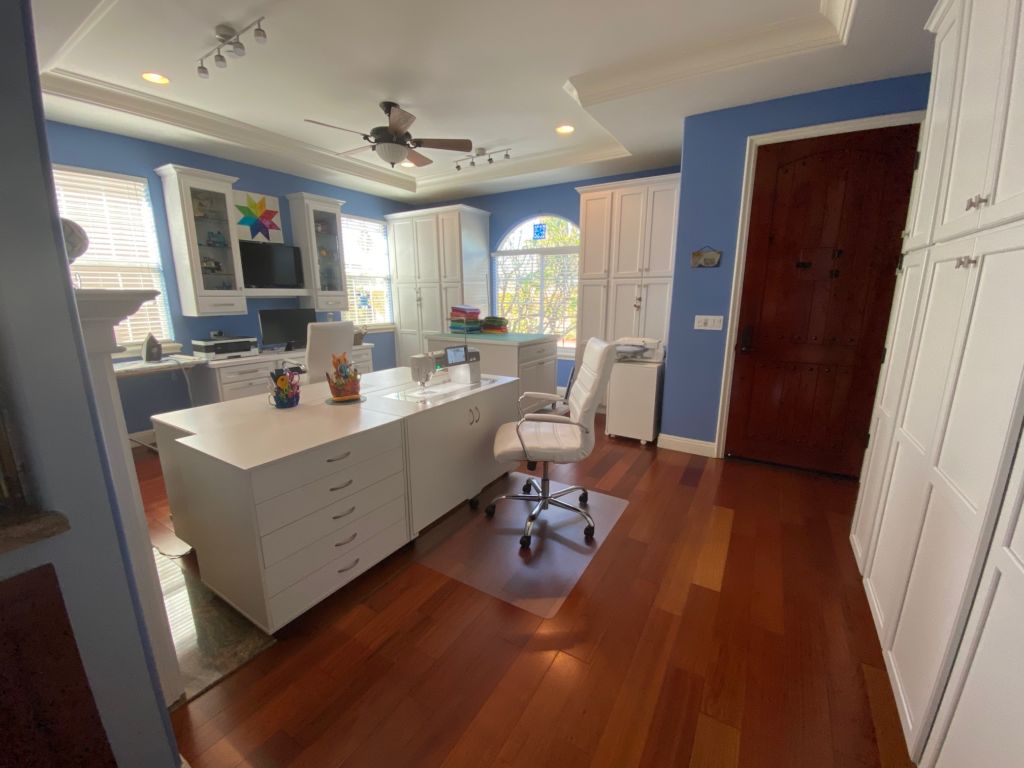 Thank you so much for taking a virtual tour of my "new" studio. 
I'm off to sew now….. If you need me, you'll know where to find me!