I've been waiting to share this new version of my GATHERINGS quilt design for a long time but there was a delay in the quilting process. Sometimes, life happens and it is completely out of our control and also totally understandable. The quilt arrived yesterday, beautifully quilted in an all-over design by Carolyn Archer of Ohio Star Quilting. It turned out beautifully. I hadn't seen the completed top for almost nine months. It was like welcoming home an old friend. 
GATHERINGS was the 2017 six-part series quilt featured in American Quilter Magazine. You can read about it HERE. It features beautiful, traditional-style, pieced basket blocks set in a modern arrangement on-point. The basket blocks themselves are fun to piece and setting the rows together was really a breeze! If you happen to own an Accuquilt GO cutter or have a friend who has one, most of the pieces to make these blocks can be cut using common-size dies. Click HERE (and scroll down the page) to get the list of dies needed to make this quilt.
The GATHERINGS quilt pattern is now available as a FREE pattern download on my website. Simply click HERE to download the first five (of six) sets of instructions to make the blocks and the quilt. You can make the quilt in two sizes: double or queen/king size. 
After making a quilt in both sizes for the magazine, I decided to make another quilt in real time as each installment of the magazine was published. I made my blocks along with other GATHERINGS quilters on my Facebook group page called GATHERINGS, AQ Magazine. And it's not too late to join the group: simply click HERE! 
For my third version of this quilt, I selected 3 Cherrywood fabric fat quarter bundles (which are no longer listed by values on their website, sorry.)  I also selected a muted, soft slate blue Cherrywood fabric in yardage as my background fabric. For more information about Cherrywood fabrics, click HERE. 
I used Electric Quilt software to plan the placement of the fabric values in my quilt. 
Ultimately, I selected this version for the placement of the values in my quilt. It seemed more challenging and yet pleasing to the viewer's eye. 
I had such fun working with the fabrics and different values to make the blocks. It challenged me to keep the blocks laid out according to my plan for the rows each month.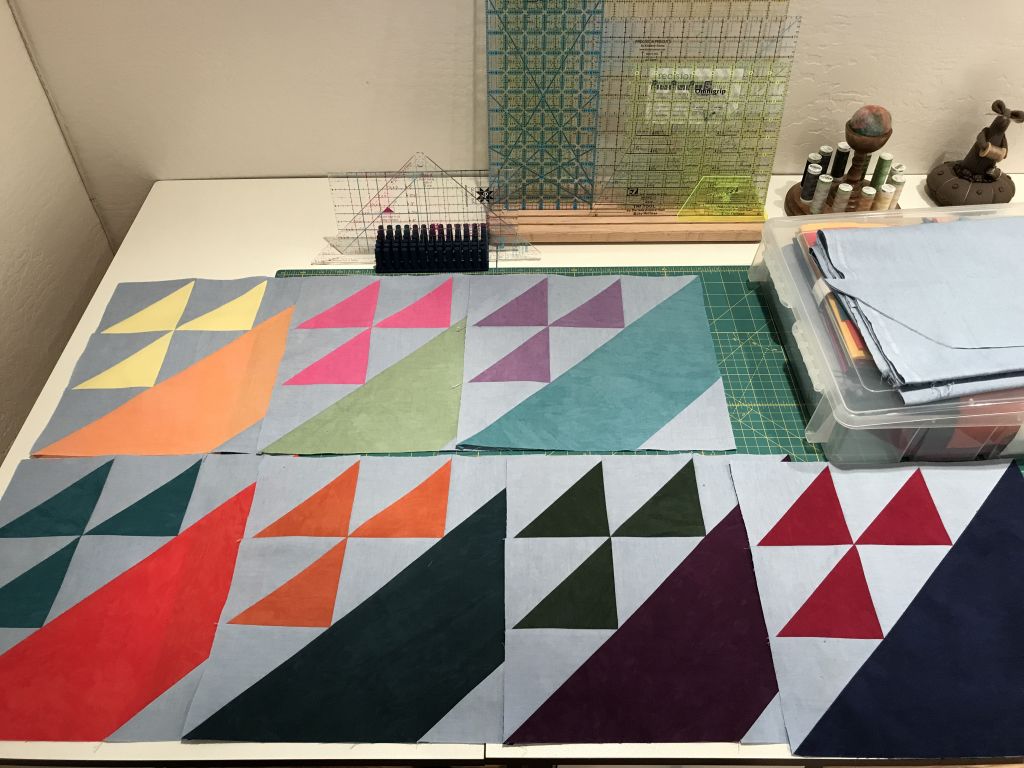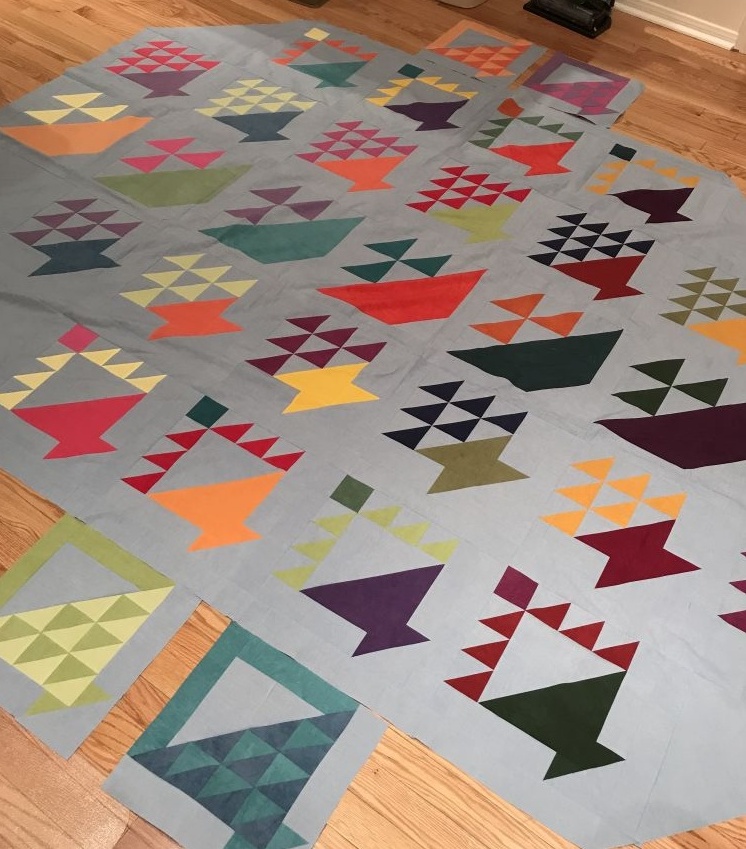 I enjoyed sharing my progress on the Facebook page with other quilters as they joined me in making their pretty blocks!
Introducing the final version of my latest GATHERINGS quilt! Notice the gradual change of values across the surface? The blocks are lighter in the upper left corner. They are brighter toward the middle section and finally tone to darker and deeper hues on the bottom right side of the quilt! Subtle, yet effective. I'm pleased with the final results and my experiment in value placement.
If you're following along with my blog posts about my studio progress, I hope to post the final reveal next week. Stay tuned!