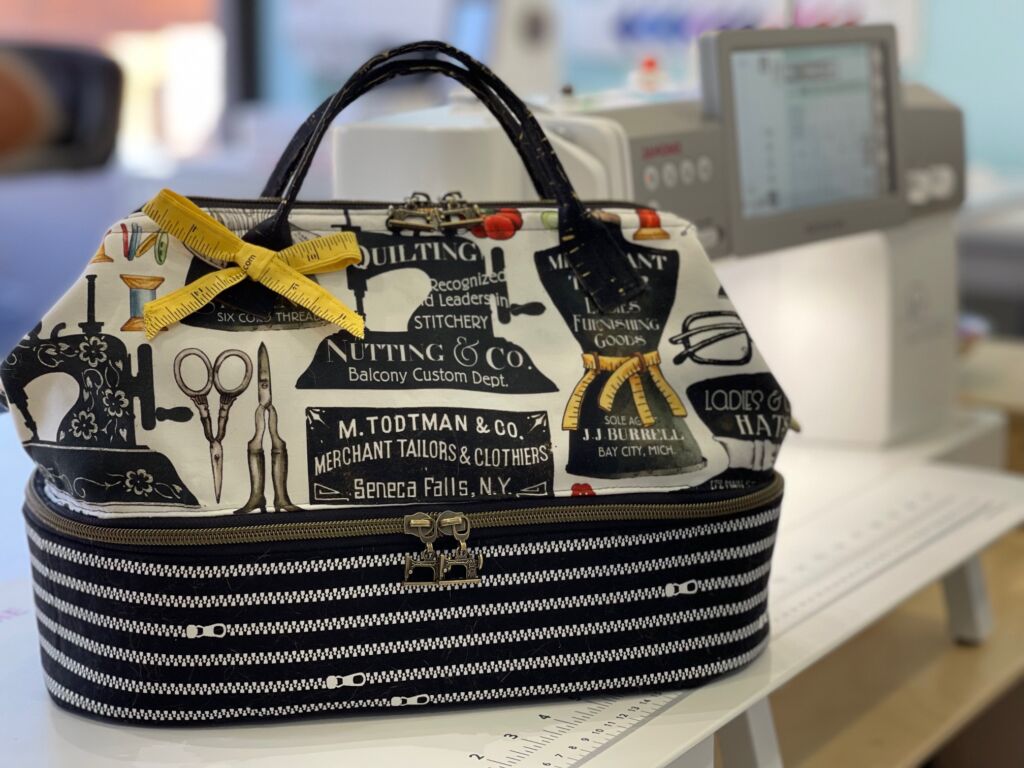 I felt antsy. Nothing has peaked my interest or seemed really fun to work on lately. Has that ever happened to you? Oh sure…..I have lots of projects-in-progress (in the quilting world, we call those UFO's — or unfinished objects.) But I was really looking for a challenge. 
Before I moved to Australia a few months ago, my friend, Danielle, and I had cut out all the bits and pieces to create a Tumbleweed Toiletry Tote from Blue Calla Patterns with the intention of making it into a hobby or sewing tote. (You can read about our super-fun, bag-making retreats here and here.) Danielle and I had already made this tote previously and we had a marvelous time because this is a rather "challenging" pattern.
We noticed on the Blue Calla Patterns website that another maker (Michelle of Barabooboo) had "hacked" the pattern to turn it into a hobby tote, so we decided to do the same. But life got busy for both of us and everything stayed tucked inside a project Art Bin box. Until this past weekend. 
I have some travel planned in a few weeks and I really want to take along my hand embroidery and Sashiko projects, but none of my current sewing totes will hold everything I want to carry on that trip. So this seemed like the perfect time to pull out that Art Bin and finish this project. It was definitely a challenge, but worth all the effort because I love how it turned out. And it is the perfect size to hold all my hand sewing, embroidery and Sashiko projects in one place, while still keeping everything organized and within easy reach. 
Introducing my newest finish!
Does anyone know the name of this darling steampunk-influenced, sewing-related fabric line? Since I had precut all the pieces for the tote, I don't have the selvage edges with me and I can't remember the name of the line. But I absolutely adore it and would probably order more if it is still available. 
Here's the take-away
I came to a realization about a few things. In no particular order:
It is MUCH more fun making totes or purses with a friend or in a group setting. I can certainly make one by myself, but it isn't nearly as fun or creatively recharging as when shared with the company of another enthusiast.

Don't keep sewing late at night or when you're tired and the project requires concentration. You'll end up either becoming frustrated or you'll rip out your stitches. A lot.

Enjoy the process, as much as possible. It's fine to want to get the project finished, but it's much more gratifying if you can stop and appreciate how great something looks or how much you've accomplished along the way. This is much better in the presence of a friend, by the way…. (Danielle, I missed you!)

We all need challenges. The good kind. The kind that stretch our skills and make us try new-to-us things. Each time I've made a bag, I've grown as a sewist. 

A good pattern and video tutorial helps. A lot.