It's been exciting to open my mailbox the past few days because two awesome quilt magazines were just delivered. Now I can finally share some great news with you!
American Quilter Magazine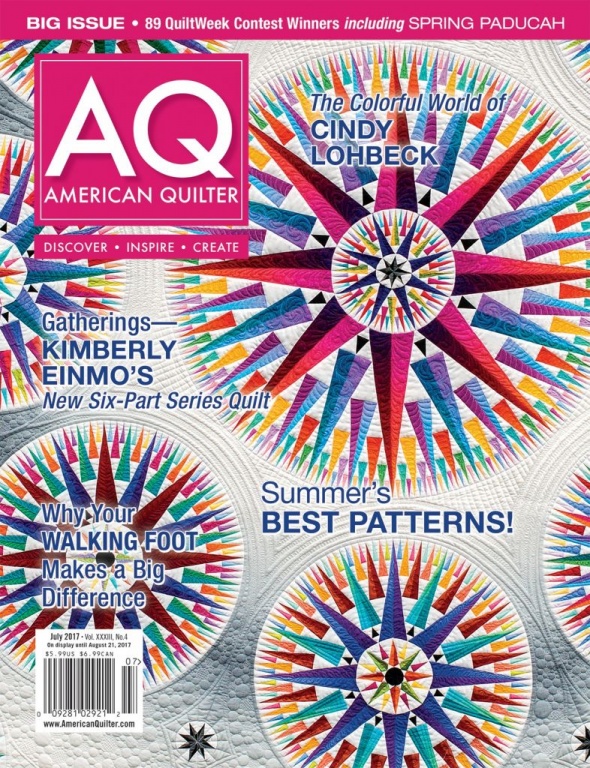 I've been posting hints online for months now (since January) about a new series quilt I was designing and making for American Quilter Magazine. I'm delighted to finally introduce my newest series row quilt, GATHERINGS!
With the extreme popularity of Pleasantville which appeared in six installments in American Quilter Magazine in 2016 (you can find the complete FREE pattern available HERE), my executive editor asked me to create another row quilt for 2017. This time, I decided to change things up a bit. It's still a row quilt, but the rows are set diagonally and feature pretty baskets in a fresh, new, modern setting. I've always wanted to make a basket quilt and this is exactly what I envisioned in my mind's eye. I designed it so you can use your fat quarters or fabrics you already have on hand (great for stash busting!) but if you'd like to make it using the fabrics I selected, you can buy a kit of these fabrics at Quilting by the Bay. And if you have an Accuquilt GO! cutter, I've created a list of the dies you can use to make the quilt. You'll still have some rotary cutting you'll have to do, but most of the sizes and shapes can be cut with GO! dies. Simply click HERE. If you would like to order the dies needed, simply click HERE. Plus, the pattern comes in two sizes: Queen and twin size.
I hope you'll consider making your own version of Gatherings. The baskets are fun to piece and the blocks go together quickly and easily — it won't take you much time at all! Leave a comment here or on Facebook and let me know you'll join me in making this quilt. I'm going to make another version in real time as each issue is published using a completely different colorway. Won't you join me in the fun?
Plus, be sure to check out my Kimberly's Korner column where I share my favorite "Pearls of Wisdom" for quilting with you. I've collected quite a fun list of the best, most clever, and even funniest hints and tips you'll ever read in this month's column. 
American Patchwork and Quilting Magazine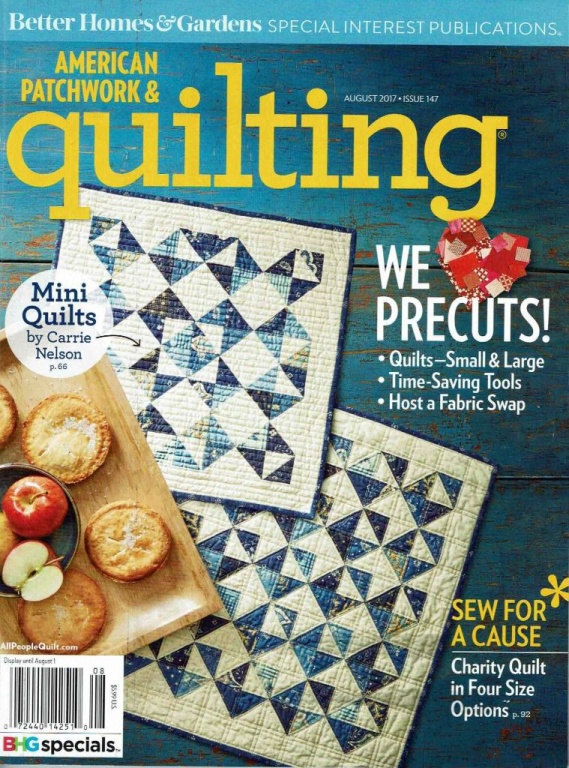 More excitement this week with the newest issue of American Patchwork and Quilting Magazine! This issue is all about Precuts and why we quilters love them so much! I was very honored to have been interviewed for the article and I'm mentioned several times with quotes and several great tips.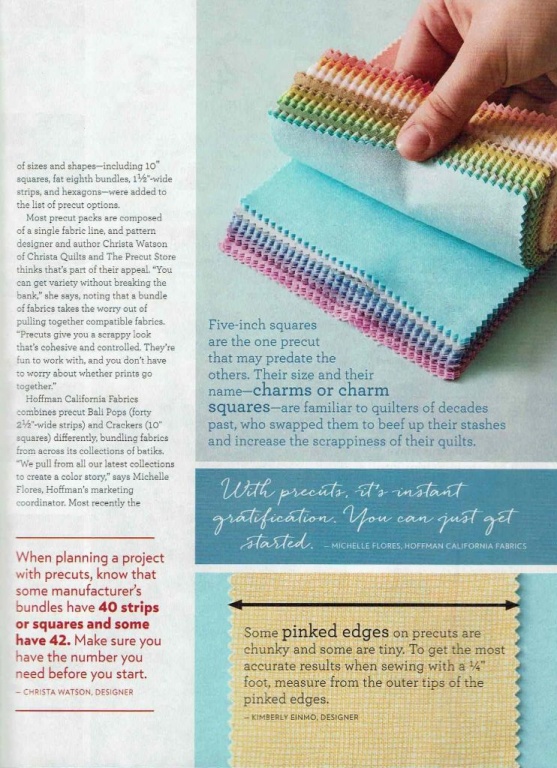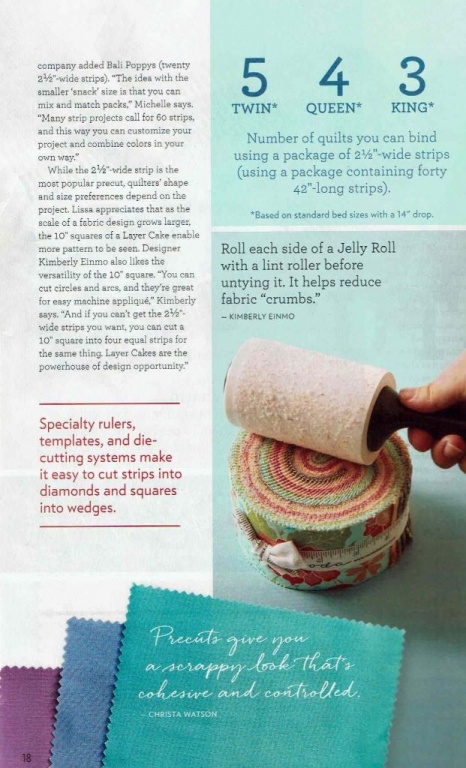 Plus, the editors chose to feature my brand new ruler, the Precision Precuts Ruler as one of their favorite new finds.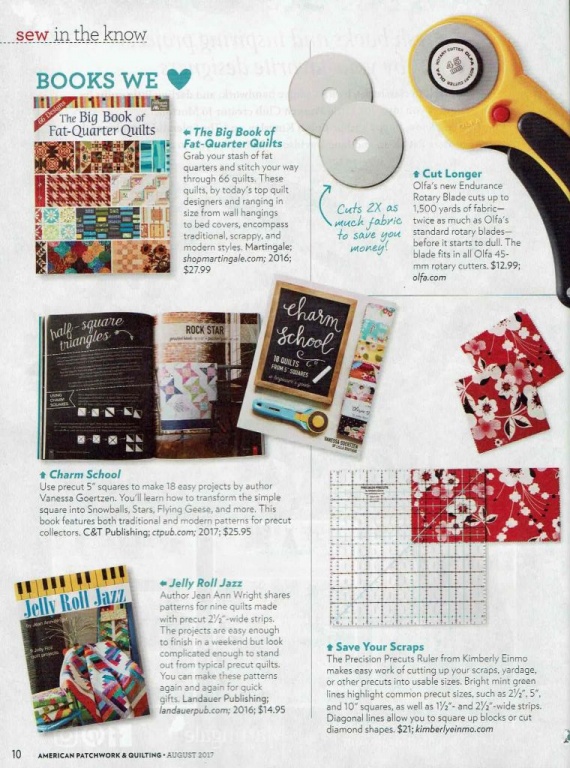 Not available in any stores but you can get it on my website! Enter the word PRECUTS for the coupon code and you'll save $1 on the cost! We ship anywhere in the world (and fast!) so you'll have this great addition to your ruler collection within a matter of days!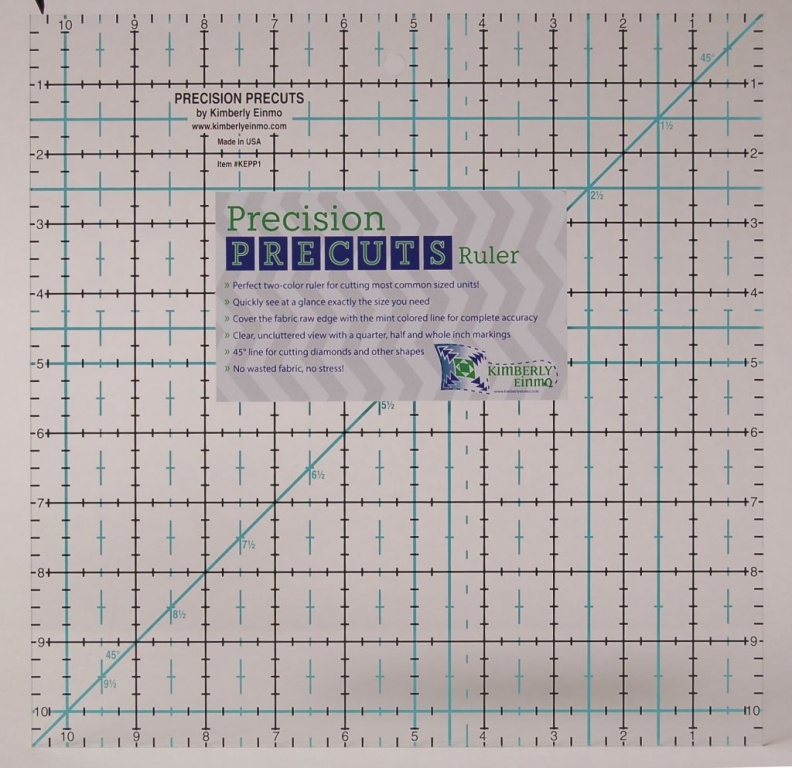 The mint green lines are the perfect color and width to make cutting your strips, fat quarters or scraps into the perfectly sized units at a glance! I'm so proud of this 10 1/2″ square ruler. It works beautifully with my Lone Starburst pattern (those pesky 4 1/4″ marks needed for trimming your units are clearly marked in mint green) and you can square up any block 10″ or less, even if it isn't made using precuts.
I removed the 1/8″ markings because when working with precuts, you simply don't need them. You only cut measurements in quarter, half, and whole inch sizes. So the ruler is clear and uncluttered. And if you like to cut and sew late at night (like me) you'll have no trouble seeing exactly what you're trying to cut even if your eyes are tired or the lighting in your studio isn't very bright. Trust me, you'll absolutely LOVE this handy-dandy ruler. I hope you'll order one today — we'll ship it right out to you! Click HERE. 
Thanks for letting me share my exciting news with you all! I'm off to go choose my fabrics for my next Gatherings quilt. Will you join me?