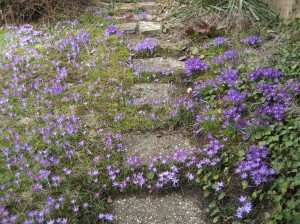 Made ya look! (smile….)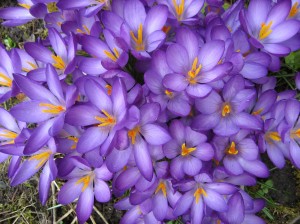 Ok, so it isn't carpet like floor coverings in a house. Personally, I think this kind of carpet is even better.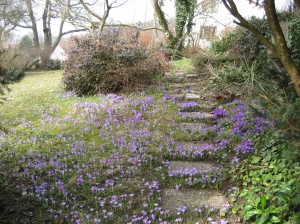 The stone pathway seems even more enchanted than usual to me.
For weeks now, I've been watching a portion of our backyard come alive with color, bit by bit, blossom by blossom; even through the snow. Today, the crocuses seemed to burst forth with exuberance as if to shout, "Spring is here!" 
These beautiful violet-colored crocuses are the first harbingers of spring here in Sindelfingen. Just stepping outside my studio today I could literally feel and smell freshness in the air. For the first time this year, it was warm enough for me to open a few windows to let the breeze inside to air things out after having been cooped up for so many months.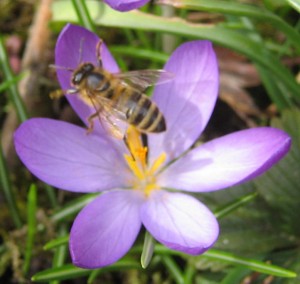 Even the honey bees took advantage of the lovely weather and were hard at work. I could hear them buzzing everywhere as they flitted from flower to flower.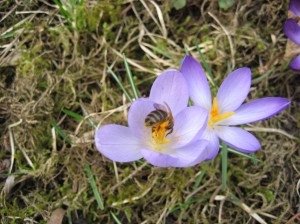 Check out the back legs of this little fellow as he pollenates each blossom he visits.
But bees aren't the only critters who have been visiting my back yard lately. I've also become acquainted with a new little mouse friend who visits the base of our bird feeder each morning around 9:00am. He stuffs himself on birdseed that has fallen out of the feeder and scurries to and from his home underneath the nearby holly bush to "stock up" for evening meals.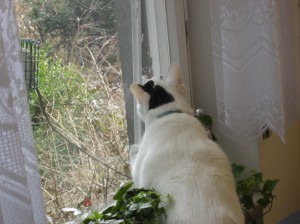 Of course, this little routine keeps Poppy entertained for hours.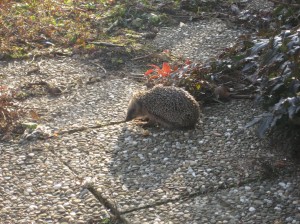 But the best thing is, one of my favorite backyard critters has returned from his long winter's nap. We caught our first glimpse of him late last night. He surprised me by visiting the patio outside my studio door this afternoon where he happily munched and graciously obliged me while I took photos. He is about the size of a baked potato, and so adorable!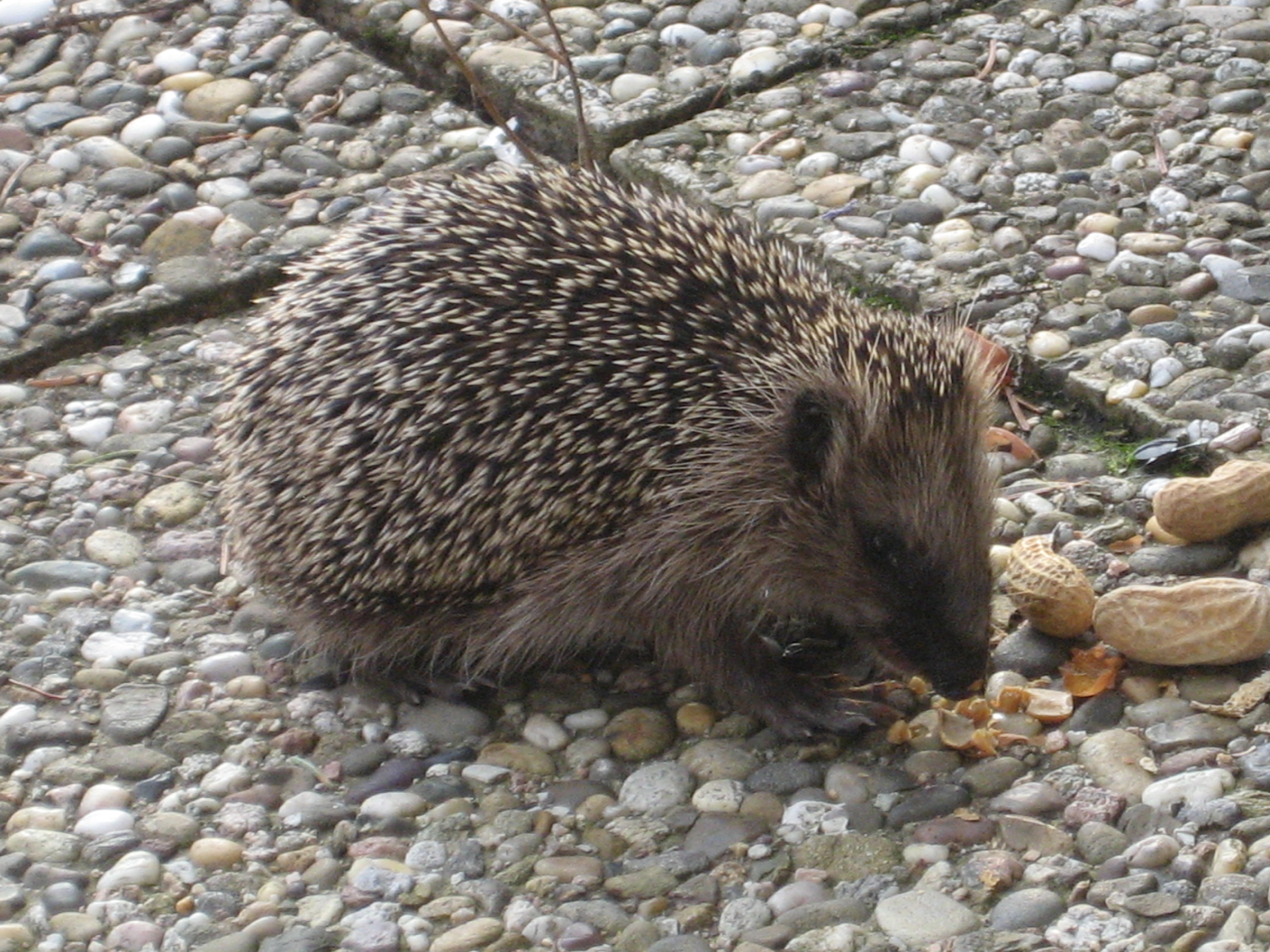 Good thing I stocked up on peanuts.
Tuffy and I have a ring side seat right here in my sewing studio for all the spring action! Does this cat have it made or what? His ring side seat comes complete with a comfy cushion for hours of viewing enjoyment.
Whether its my growing purple crocus carpet or the cute critters whose visits remind me of how much I have for which to be grateful, everything seems to be happening right in my own back yard. (Didn't the Good Witch remind Dorothy of this right before she clicked her heals and returned to Kansas?)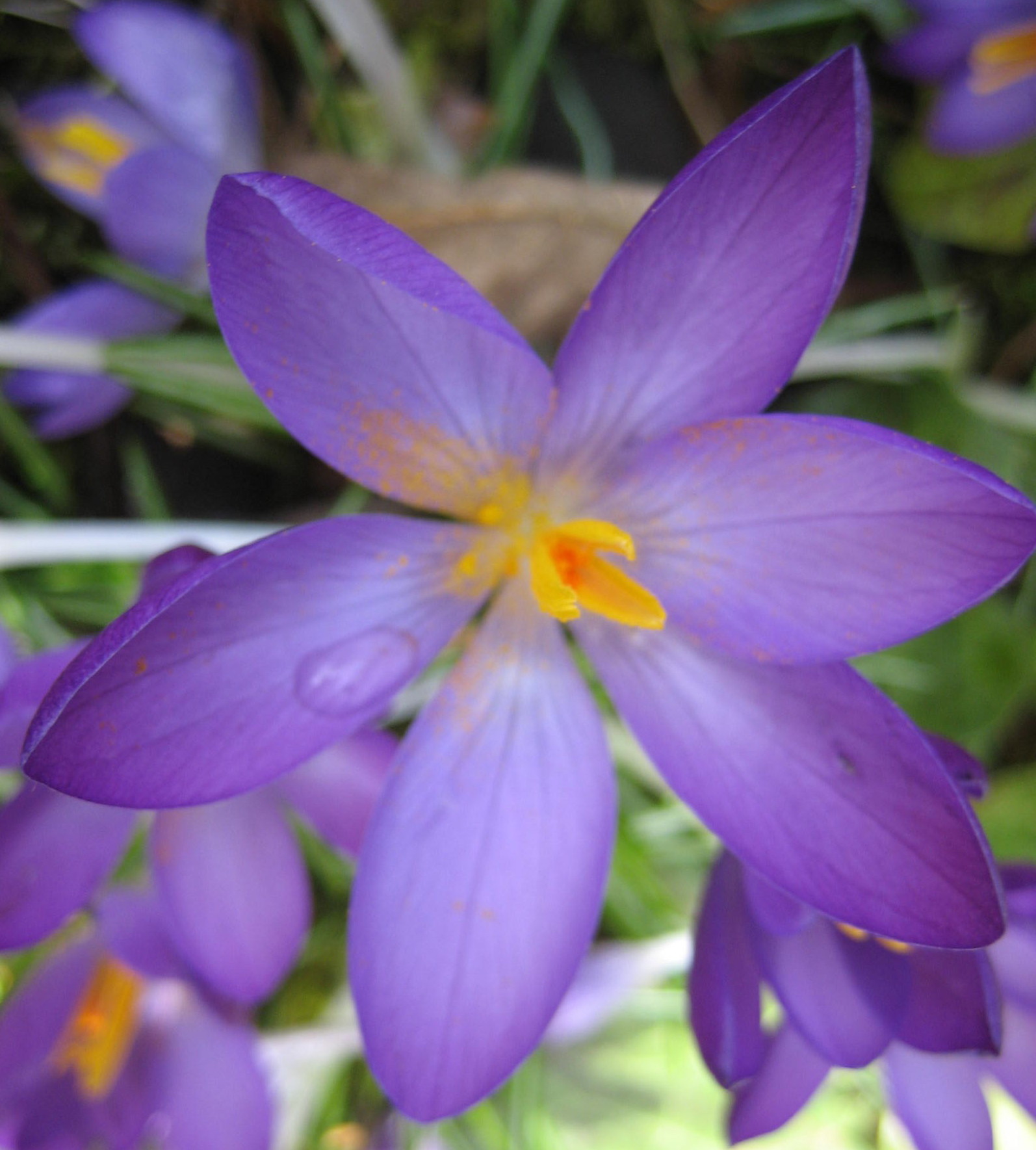 Like Cheetos for bees, the yellow stuff is evidence they've been here.
Blessings abound. Happy Spring!