My Mom and I share a little secret. We have little "meetings of the minds" where we share heart-to-heart communication on a regular basis. Considering she passed away more than four years ago, you might think I'm a bit quirky to make such a statement. But she and I communicate through our secret, shared language of needlework. Even now, all these years since she left this earth, we send each other nudges of love.
I'm a quilter. Mom was a cross-stitcher. And she was positively brilliant at cross-stitch. I never caught the bug for cross-stitch, but Mom did teach me hand embroidery skills. So, we share a common thread through hand needlework. She never really understood my love for quilting, though. To her, quilts were what her mother made and used during the depression out of necessity from old clothes and feed sacks. It meant they were poor. She did not have fond memories of the Great Depression so I think the idea of quilts wasn't favorable in her mind. But somewhere during her adult life she picked up the skill and learned to do cross-stitch, which she loved to do. For many years, we had this funny little tradition at Christmas where I would gift her a cross-stitch kit that I wanted her to make for me. She would always oblige and before the next Christmas she'd have it finished and given back for me to have it framed. I have a dozen or so of these precious hand-stitched artworks hanging in our home.
When Mom worked on her cross-stitched pieces, she was adamant that "the stitches on the back should look as neat and tidy as they do on the front." And indeed, the underneath sides of her handiwork were truly as exquisitely stitched as the fronts. It always amazed me how beautiful she could make them. That, in and of itself, is a true talent.
When the dementia set in, I should have recognized the signs earlier. She had several cross-stitch pieces in progress, but she never seemed to finish them. Only years later did I realize she had forgotten how to actually create the stitches. But in those early days of her disease, she was rather good at hiding the fact she was forgetting simple tasks.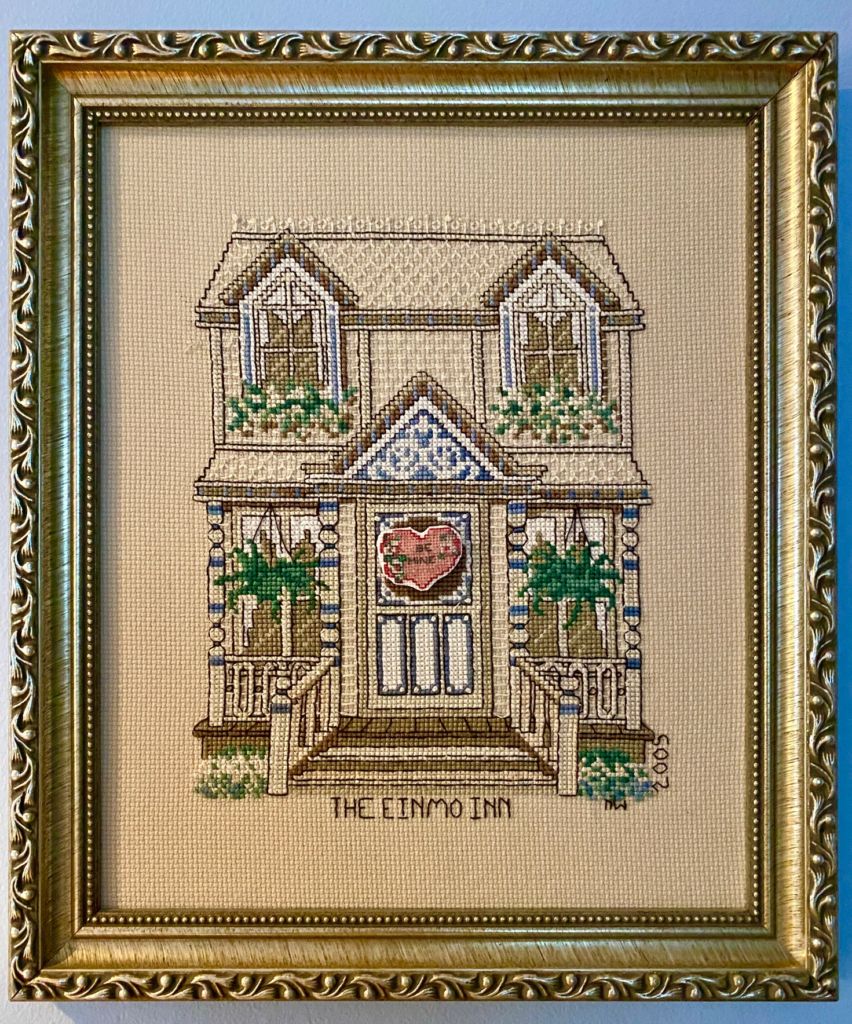 I love all the pieces she made for me and I cherish each of them. But there is one, a simple house, that is more special than the rest. She made it for our sparsely decorated home when I was a young bride and it came with twelve little cross stitched "door hangings." The idea was to change one each month to celebrate the holiday or season. They are easily attached by a piece of Velcro on the back of each one. The cross-stitched house itself isn't very large; it is only 8 1/2″ x 11." It currently hangs on a wall leading down the main hallway in our home. I pass it every day. I notice it. Every. Day. And each month when I change the little door hanging, like I did today, I say "Hi, Mom. I love you. I think of you every day. Say hi to Pop for me." And I send her love and light and a kiss and hug. And I believe she hears me and she says, "I love you, too. I'm so glad you take time to put the holiday hangings on the door. Thank you for remembering me." This is our secret conversation. I feel it in the depths of my heart.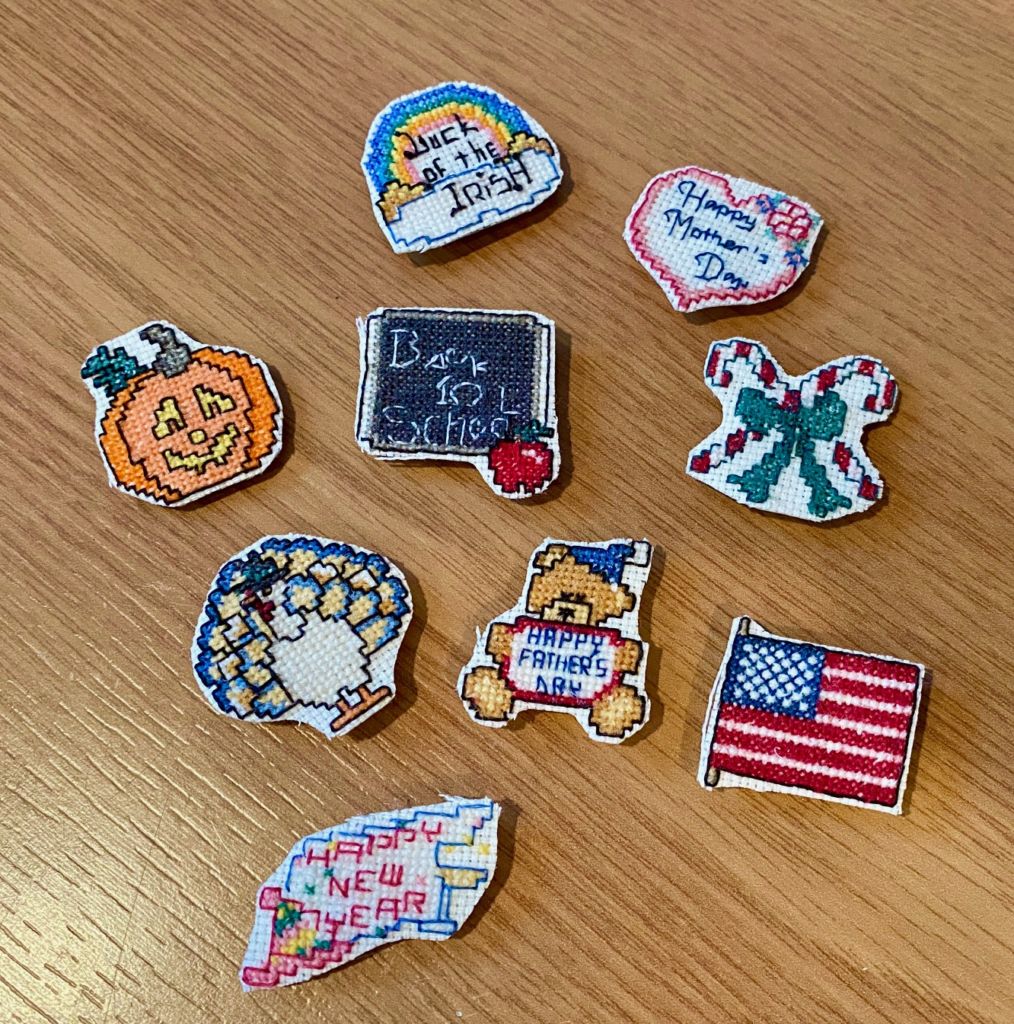 My husband, our sons and I think almost anyone who has come into our home has most likely passed by the framed house and never noticed the door hangings have quietly changed each and every month. I've never missed a month of changing them (although sadly, in one of our many moves, two of the door hangings were lost and I only have ten now.) 
A God wink? A sign? Simply wishful thinking on my part? Perhaps. But I wouldn't miss taking these few moments each day to stop and think of my Mom and feel her love in my heart. 
You see? Whether you cross stitch or quilt, embroider, knit or crochet, there is love in those stitches created by your hands which transcends time and logic. Needlework is a form of communication, a language all its own. It is the language of love.