UPDATE: Mom's pie crust recipe at the bottom!
How's that title for alliteration? 
My mother, who was a good cook and decent baker, taught me many of her kitchen skills. I learned to cook fairly well before I wed, and in the past fifteen years or so, I have become a better-than-average cook. As for baking? Mom could make delicious cookies, spectacular home made fudge and tasty cakes (although in fairness…we always teased that her cakes never looked pretty  because typically, they would crack down the middle.)
But for all of her shortcomings with cake, Mom was the consummate pie baker. During the time I grew up in northeast Ohio, Mom's pies were almost legendary within our tiny community and church congregation! Never fancy or frilly, they were unbelievably delicious made from simple ingredients and her knack for flaky, melt-in-your-mouth pie crusts. (Her tried-and-true recipe for those crusts goes against every well-known pastry chef's generally accepted regimen that pie dough be kept very cold throughout the preparation process. Oh no, no, no, NO! Mom absolutely insisted her dough be made using boiling water so the ingredients melted together to create a flaky crust as light as a feather! She learned this trick from her Mother and probably from a generation prior to her mother, too. And of course, she passed this on to me. 
Like I said, I'm a good cook and a baker myself. But I never really had a need or a knack for making pies prior to now. Since the men in our family prefer cookies and cakes, I never fully committed to learning how to make pies beyond the occasional pumpkin pie at Thanksgiving. 
Until the pandemic hit. 
During the angst and uncertainty in those early days of stay-at-home orders, the thought of eating a piece of one of my Mom's pies sounded so good. So comforting. Perhaps I was looking to connect with my late Mom and her reassurance and guidance more than it was about making or eating the pie itself. So one early day in April I found myself pulling out her recipe box and deciding to make her famous homemade banana cream pie. Reading the words on the recipe card written in her own hand was comforting in and of itself. And as I mixed and carefully combined ingredients, the worries of the outside world began to slip away. There was just me, my memory of her, and a warm, distantly-familiar aroma in my kitchen.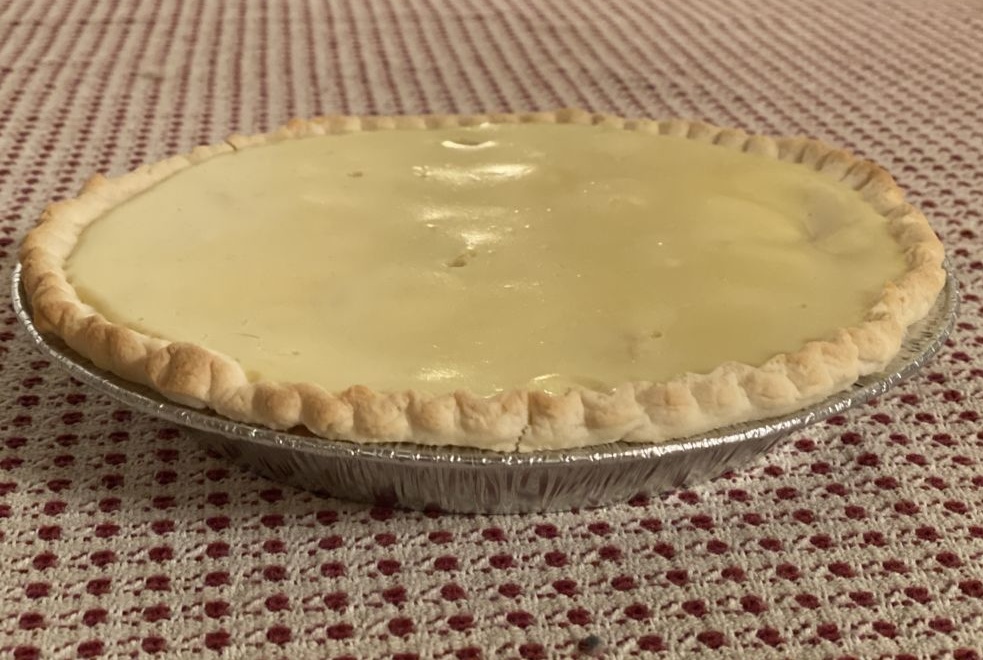 I had honestly forgotten how amazing Mom's recipe for banana cream pie tastes! And even more surprisingly, was how much my husband and son loved it, too! The pie was finished off in less than two days with requests for more. (And you can find the recipe for her banana cream pie HERE.)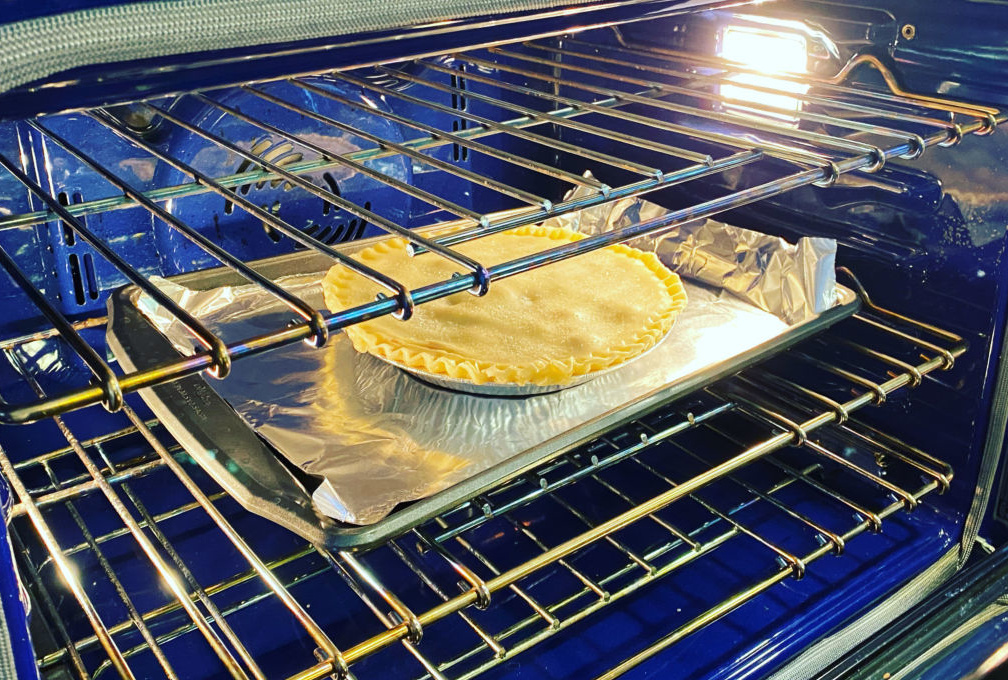 And so, the days and weeks which followed have become known in my mind as "the Pandemic where I Pursued the Pleasure of Perfecting Pies." Since that first pie, I have made a variety of pies including cherry, Dutch apple, pumpkin, and pecan.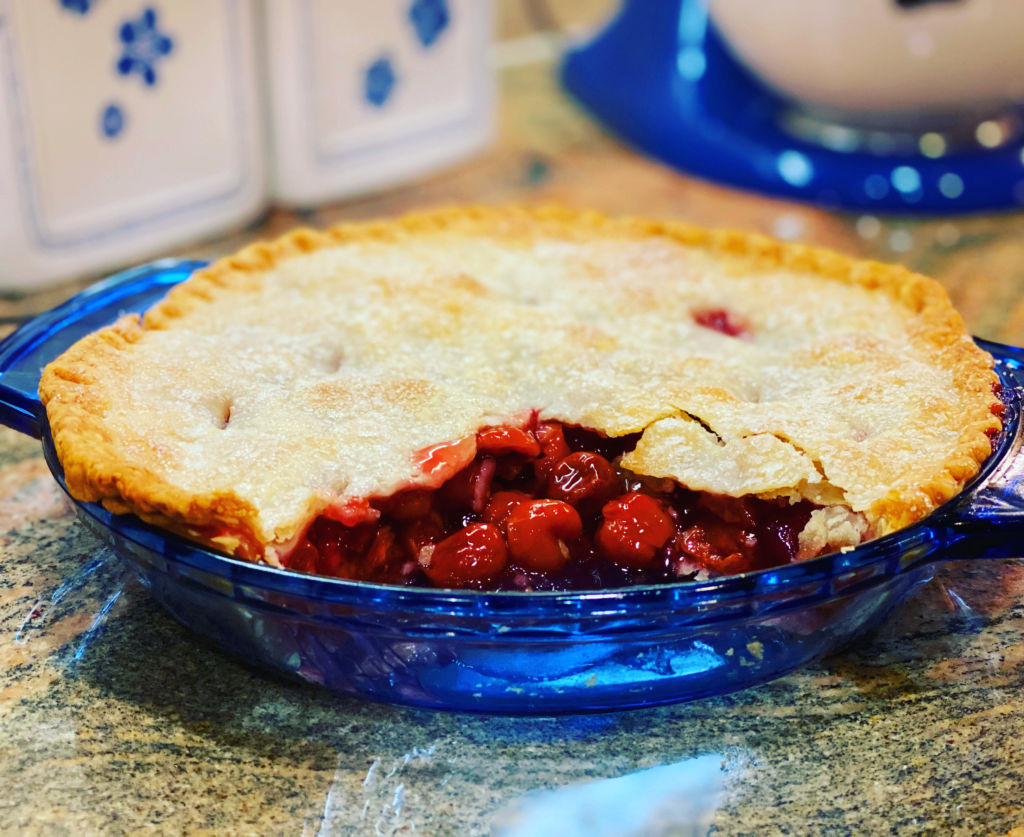 Most recently, I made my own version of Oreo chocolate pie with homemade whipped cream, which was not one of Mom's recipes. I adapted her basic cream filling recipe to make it chocolate and added a homemade Oreo pie crust. This pie earned some rave reviews!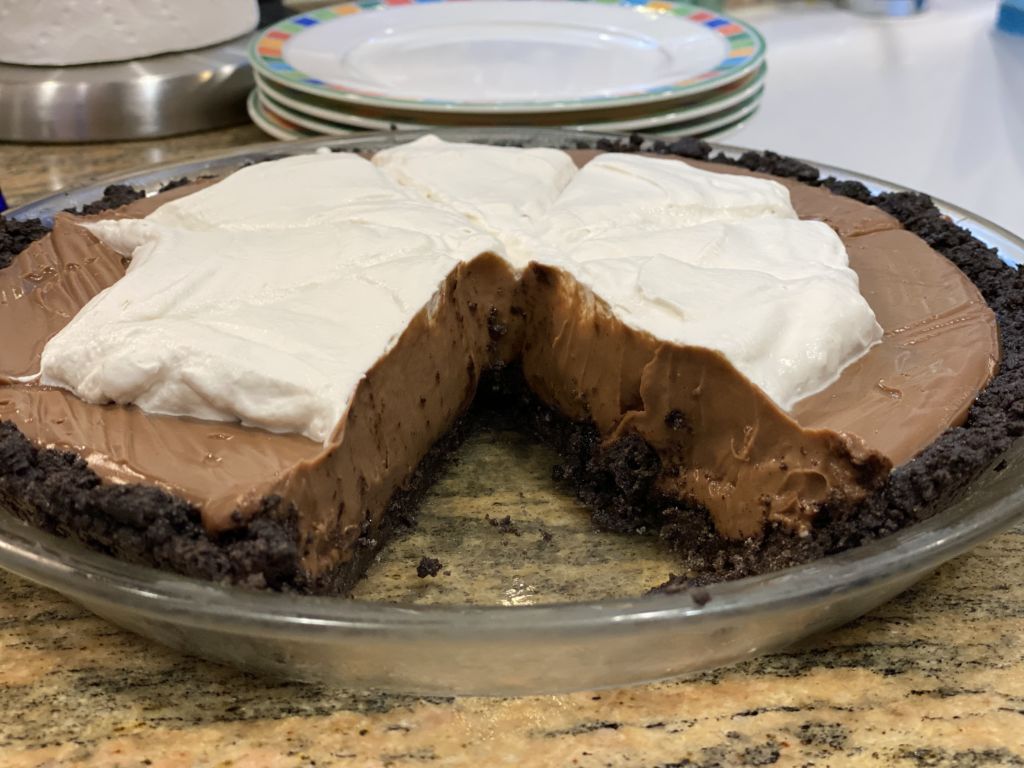 I have found this pie-baking process both soothing to my soul and oh-so-satisfying to be able to share these home baked pies with family and a few, nearby friends. I've felt connected to my Mom and my family heritage which, in turn, has helped me to feel grounded during such a tumultuous time.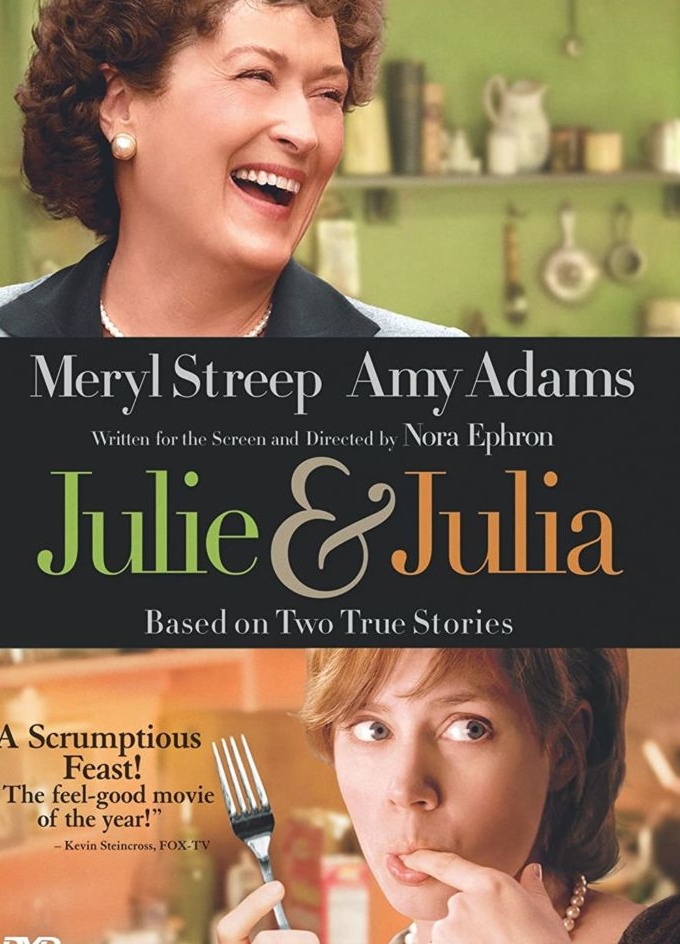 There is a line in the movie, Julie and Julia where Julie is baking chocolate cream pie, and says to her husband: "You know what I love about cooking? I love that after a day when nothing is sure and when I say nothing, I mean nothing. You can come home and absolutely know that if you add egg yolks to chocolate and sugar and milk, it will get thick."
I couldn't have said it better. So here's my thought to you: If you are stressed or feeling anxious or worried, make pie. 
By popular demand! Here's Mom's pie crust recipe:
Water Whip Pie Crust
Disclaimer from Kimberly: Mom taught me how to make this crust when I was a young girl. The secret to this crust is to use boiling water, which is completely opposite from most pie crust recipes that call for keeping the dough cold through the preparation process. Mom said the boiling water melts the Crisco and makes the dough easy to roll out between sheets of wax paper. Mom's pie crusts were always light, flaky and just perfect. She told me her mother taught her to make pie crusts this way and it worked like a charm every single time. 
1 cup minus 2 Tbsp (7.8 cup or 14 Tbsp total) Crisco shortening (don't skimp and use an off-brand!)
6 Tbsp boiling water
2 tsp whole milk
2 1/2 cups all-purpose flour
1 tsp salt
Whip together the first three ingredients using mixer. Add the flour and salt. Mix together until a ball forms. Don't overmix. Roll between two sheets of wax paper. 
Yield: 2 pie crusts. 
Recipe from Nina Lee Wallace, given to her by her mother (during the depression years) Kathryn Jackson Dale Shawn