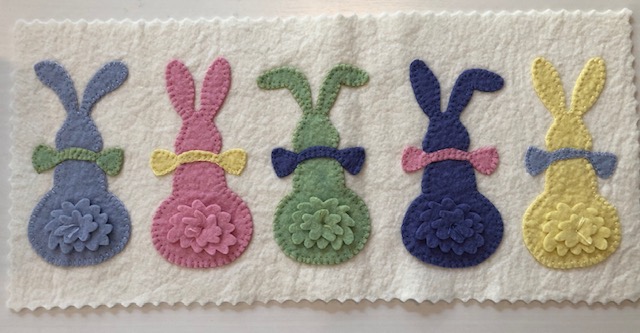 The majority of our Easter and spring decorations are stored in our cabin and since heavy snows and a busy schedule have prevented us from traveling to Lake Arrowhead to retrieve them, I've done minimal decorating this year. However, I did run across a few fun, wooly table toppers I made many years ago and it made me happy to bring them out to enjoy after being tucked away in storage.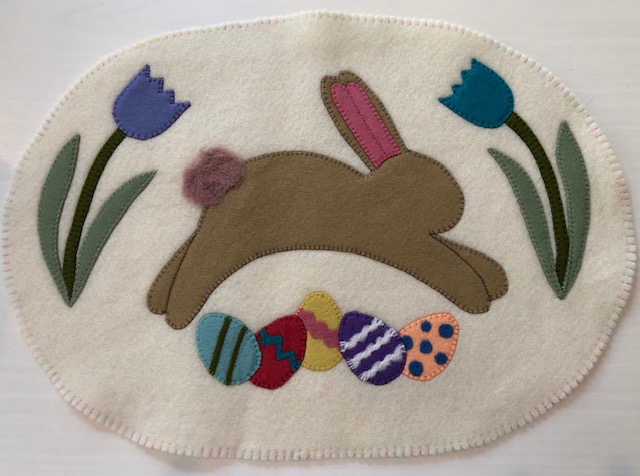 I haven't done any buttonhole hand-stitching on wool in, well, years. There just never seems to be enough time. Oh, how I've missed it. Revisiting these sweet pieces made me smile to remember how much I enjoyed the process of making them.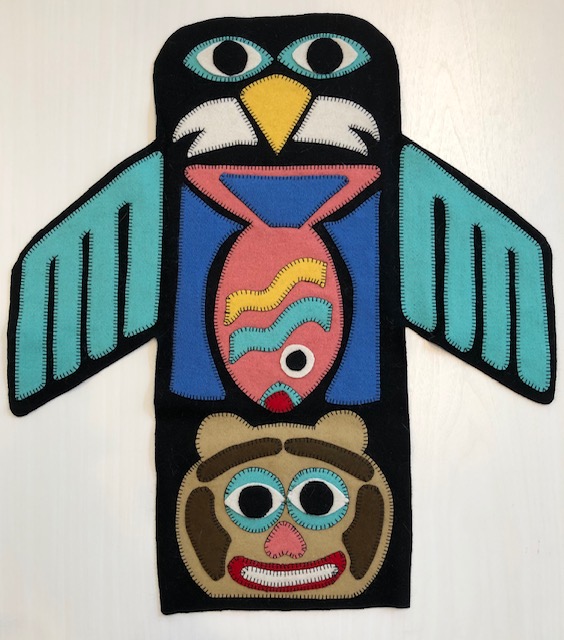 And although this Alaskan-themed totem pole wool applique piece (my original design) isn't very "spring-like," I hadn't seen it in many years. Originally designed for an Alaskan quilting cruise, I still love it and have many terrific memories of our trips to Alaska!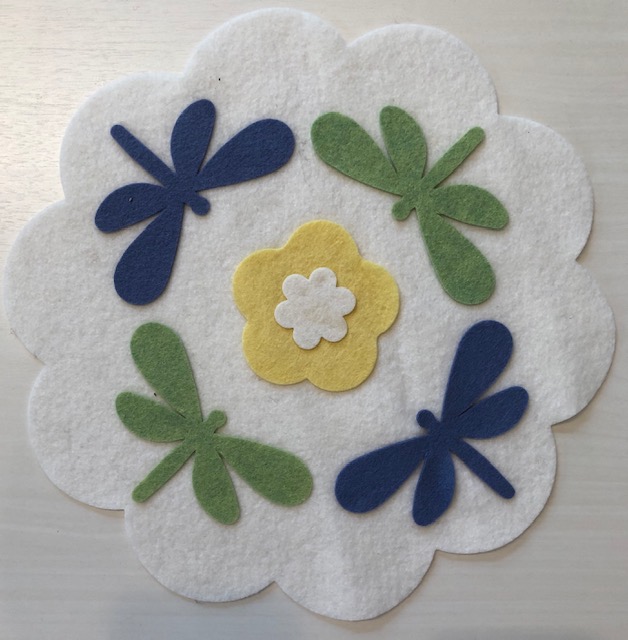 Fortunately, I also came across this fun little wool piece, all prepared for hand buttonhole-stitch applique. I think I'll pull out some coordinating floss and make time to stitch a little every day. It shouldn't take me long to get this one finished.
All these bunnies and spring-things made me think of….
Carrots!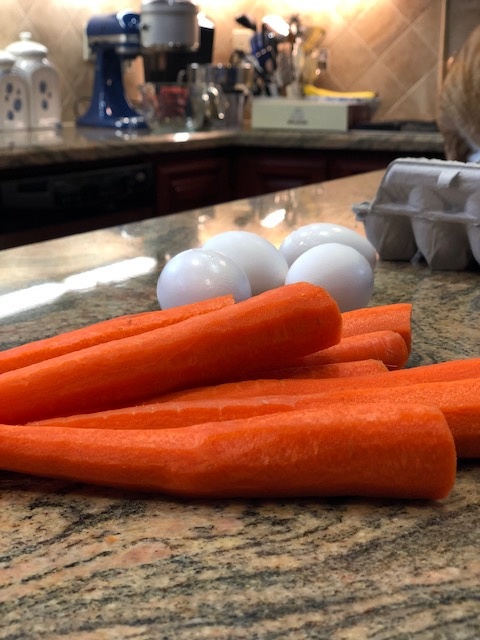 We look forward to our weekly Bible study with a terrific group of people from our church. This has given me the opportunity to brush up on long-neglected recipes and my baking skills. I found these fabulously-fresh carrots at the grocery store and remembered my Mom's old-fashioned carrot-cake-with-cream-cheese-icing recipe. I couldn't resist making a cake for our Life Group and a little cake for our dear friends and neighbors, who live next door.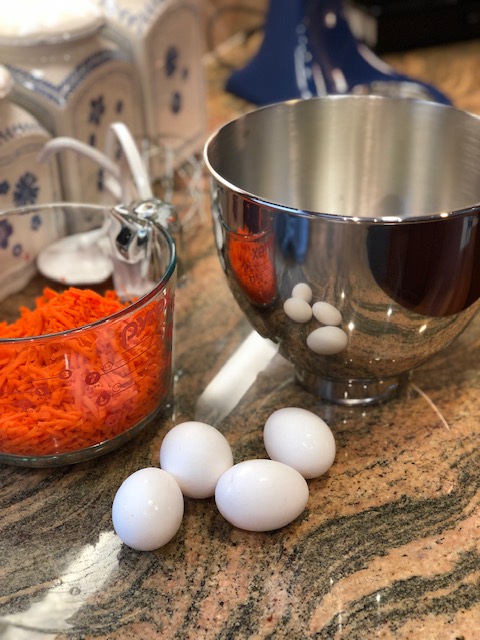 The recipe is just so simple. The most difficult thing is grating the carrots (which was actually easy using my Kitchen Aid stand mixer and the food processor attachment.) I love the recipe uses plain, honest-to-goodness, fresh ingredients. I know there are more complex, fancier recipes with multi-layered flavors to make carrot cake available. But this recipe came from my grandmother which was passed to my Mom, and then to me.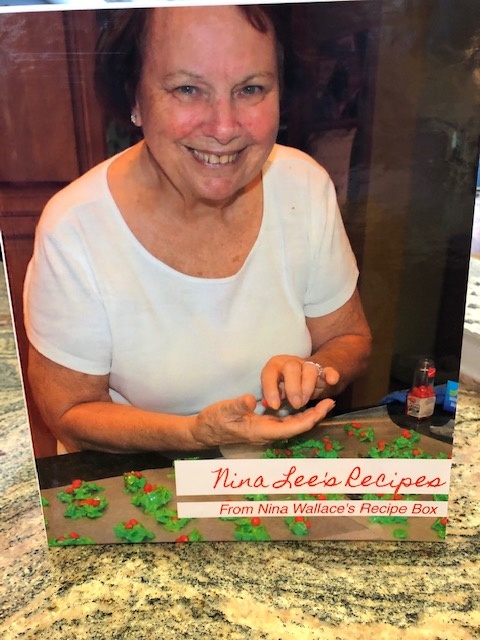 You may remember I put together a cookbook of all my Mom's recipes for family and friends after she passed away. (You can read about it HERE.) Every time I pull this recipe book from the shelf to use, I say "Hi, Mom!" and think about all she taught me about cooking, baking and the fun times we shared in the kitchen together before she passed away.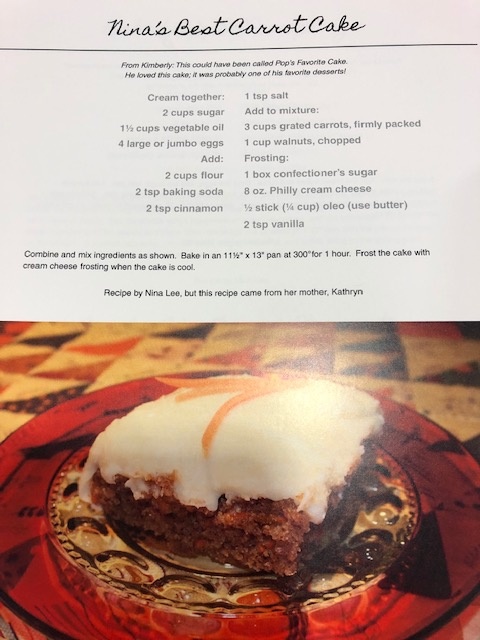 So in honor of spring, I thought I would share my Mom's moist, decadent, simply fabulous carrot cake recipe with you. Give it a try: I think you'll love it!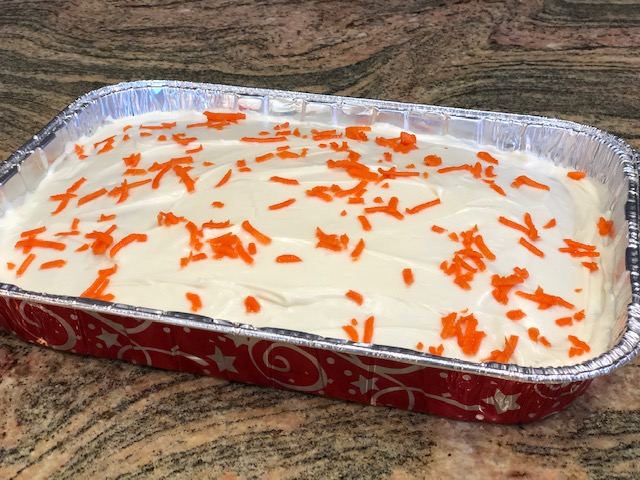 Happy spring, everyone!