It's been a good week. The retreat at Scrap and Sew last week was energizing and my creativity mojo has been in high gear since then. Our visit here at home with Sue and Herb Hausmann this past week was wonderful, too. They are such terrific folks, and we enjoy spending time with them immensely. We talked, visited with some of our mutual friends from Ohio, ate at wonderful restaurants, shared fellowship at church on Sunday, and went boating. It was such fun.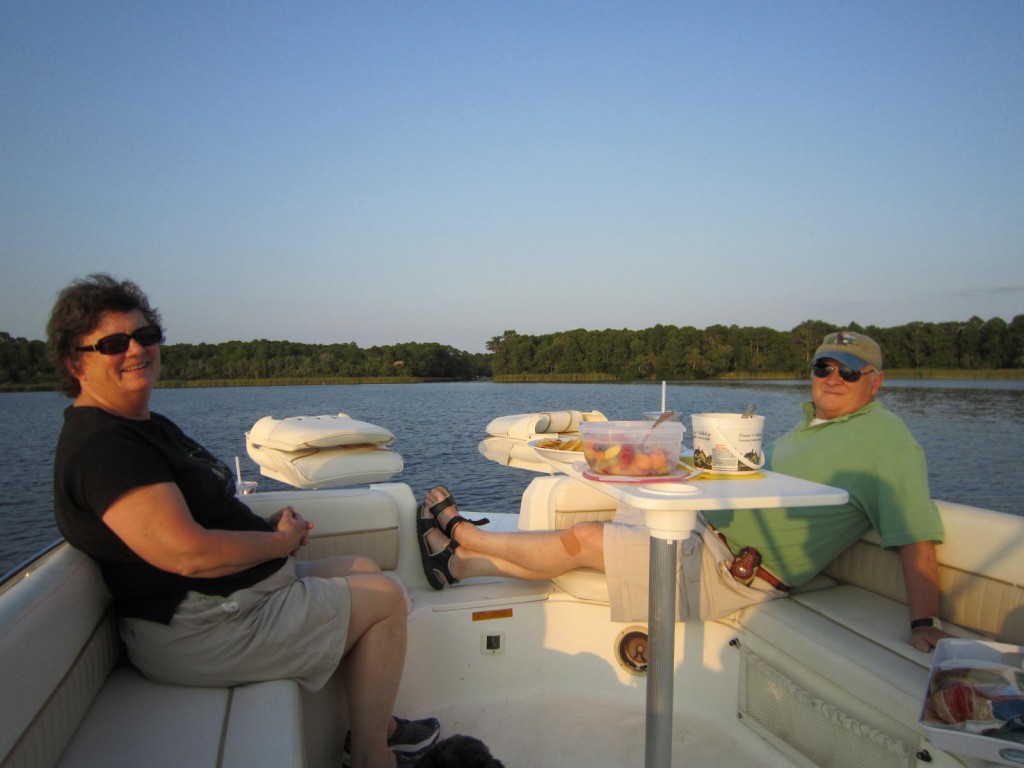 Yesterday, I hosted a small luncheon here at home for some of my friends from our previous neighborhood. I hadn't seen these gals in awhile, so it was really great to have time to catch up. They enjoyed seeing our new home and we picked up right where we left off the last time I saw them. Isn't that the way with true friends? No matter how long you are apart you fall easily into conversation just like you had seen them yesterday. Sort of like slipping into your favorite pair of old jeans. Easy. Comfortable. Wonderful.
It has been awhile since I've done much entertaining but I think perhaps I haven't lost my touch. I set the table with my best dishes and I served a warm Oriental chicken salad with homemade sweet and sour sesame dressing, crusty french bread and butter, and a pitcher of fruity white wine sangria. I wish I had remembered to take a picture of the table; it was so pretty with fresh plumeria blossoms picked from our back yard as the centerpiece. For dessert, I pulled out an old recipe I haven't made in years and served a refreshing peach dream mousse. Yum.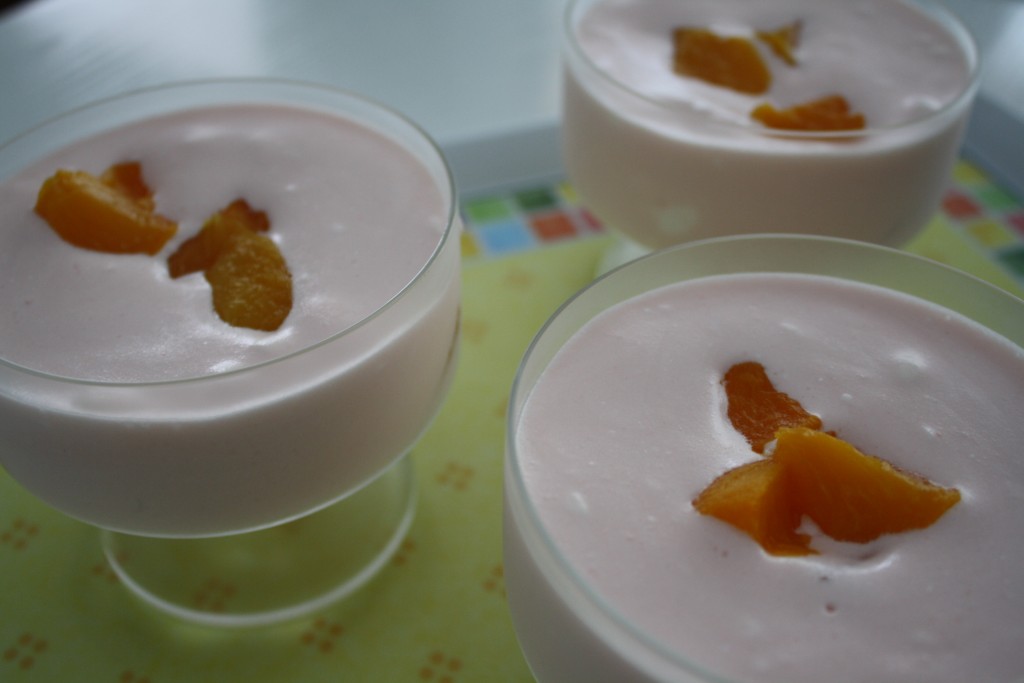 Would you like the recipe? It is so easy and so delicious, especially in hot weather.
Peach Dream Mousse
1 large box peach Jell-O
2 cups boiling water
1 large can sliced peaches, drained
1 quart good vanilla ice cream
1 small tub cool whip
Let ice cream sit at room temperature for about 20 minutes. Dissolve Jell-O in boiling water in large bowl. Add ice cream, cool whip, and peaches and mix until smooth. Spoon into parfait glasses and chill in refrigerator overnight.
Yesterday at the luncheon, the girls surprised me with some lovely housewarming gifts and I was overwhelmed with their thoughtfulness and generosity! I especially love the darling apron they made for me. My favorite color — blue — which matches my kitchen. I'll certainly wear it often when I prepare meals and remember these special ladies.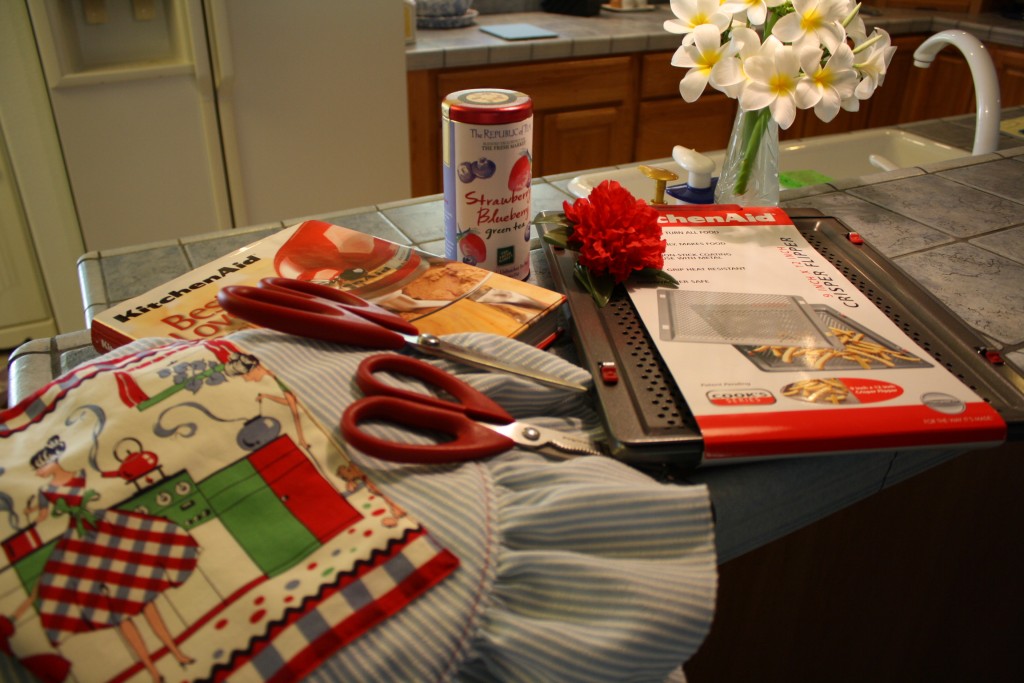 And today just for fun I made myself a quilted iPad tote. I used the most adorable hedgehog fabric (combined with a few coordinating pieces from my stash) that Sue brought for me as a surprise. She knows Kent and I collect anything hedgehog related. I used decorative stitches on my machine, and just for fun I used my machine's built-in alphabets to add my monogram and some personalization. It's not often that I get to spend the afternoon playing and creative a project "just because." What a treat!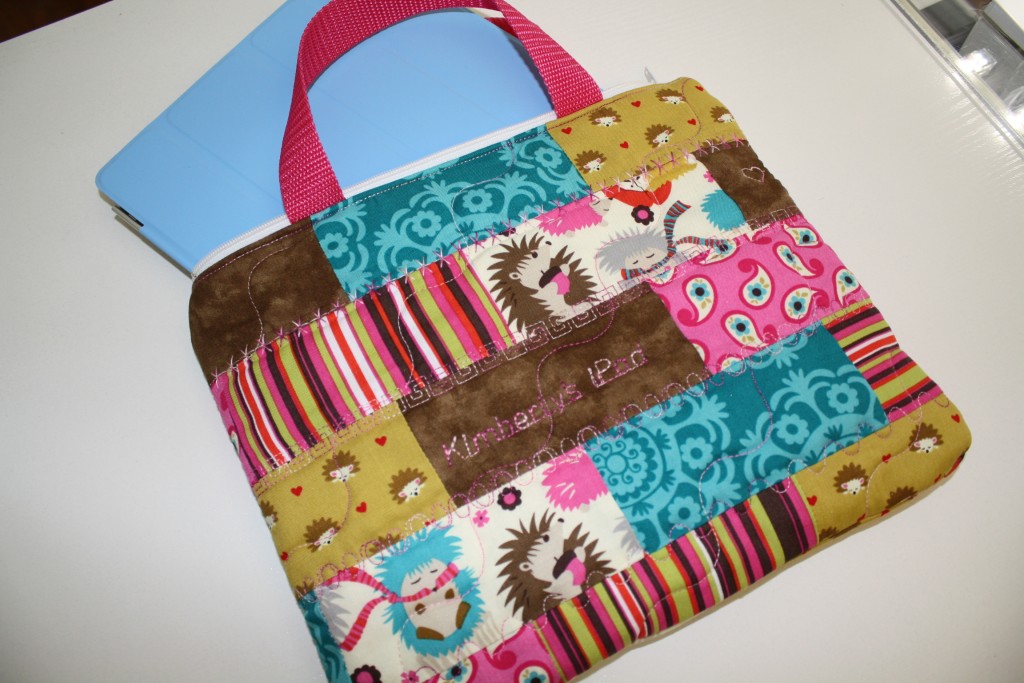 Yes, it has been a good week. Everyone is healthy and school is almost finished for the year. Tomorrow is the last day. A busy summer lies ahead. I'm enjoying the simple things in life. I feel so blessed. I'm ready for a wonderful summer season. Bring it on!