We hosted some of our favorite people here at home over the weekend, Herb and Sue Hausmann. Of course, we think they are both terrific simply for who they are — sincerely good people and simply great friends — but during their visit this time, we got a bonus!
Ever since we moved into our house this summer, I have wanted to replace the curtains in the kitchen. They suited the previous occupants perfectly, but unfortunately, they just didn't suit my personal taste and decorating style. Or our color scheme. The previous lady of the house loved bunnies and garden veggies (which adorned these balloon valances); me…..not so much.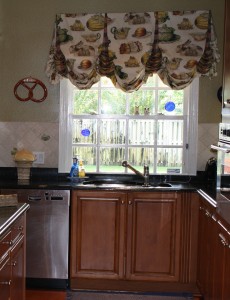 Upon giving our friends a tour of the house, Sue agreed the curtains did not match my color scheme of blues and accent greens for the kitchen and adjoining family room and that new valances were definitely in order. So we got right to work.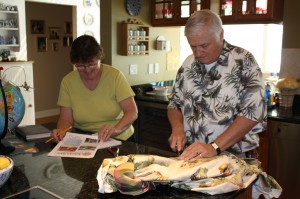 Based on valances designed for their own kitchen, Sue worked on the design
and pattern pieces and Herb removed the valances from the hardware.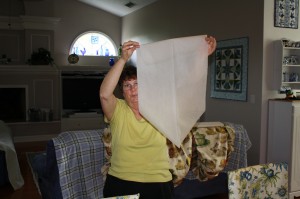 She traced a basic pattern onto tissue paper,
and after a quick trip to the store for coordinating fabric and supplies…..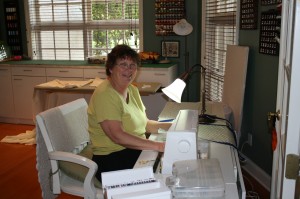 Sue got right to work. I helped as much as I could,
but mostly I spent time preparing a delicious, autumn-inspired dinner.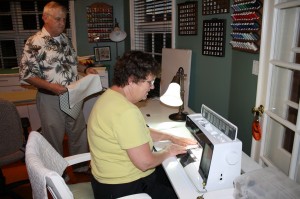 It was a true team effort. Sue calls Herb her "CEO" (Carries Everything Out)
and he was the "go-to" guy for attaching the valance pieces to the hardware and hanging them.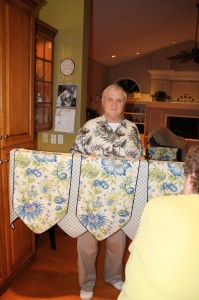 Herb, you are amazing.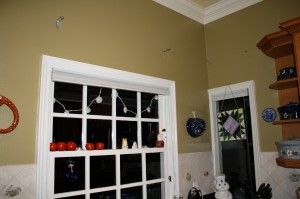 (A view of the kitchen windows with the old curtains removed. Drab, blah, snooze…)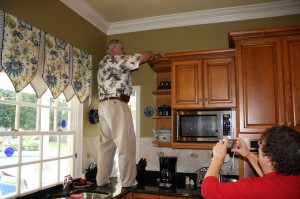 One down, (er,.. up) and one more to go. Sue capturing the moment on film.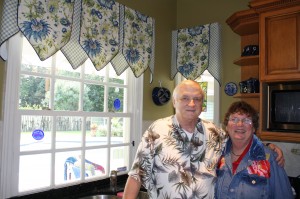 Don't you think the new valances look terrific?  Wow! I'm simply honored, thrilled,
and so excited to have new, matching curtains.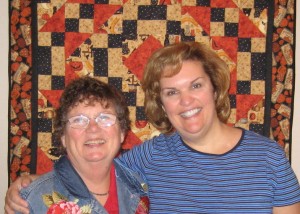 What a blessing for us the Hausmann took time out of their very hectic schedule to come and spend time with us. Thank you, Sue and Herb. Can't wait for your next visit. Hmmm…..wonder what project we can tackle next!